An impression of Ordos: innovation and entrepreneurship
(chinadaily.com.cn)
Updated: 2015-09-28
The city of Ordos, Inner Mongolia, is trying to attract high-level professionals. It is the first city in Inner Mongolia to implement a policy to recruit this year's postgraduates and keep competent one From 2006 to 2009, the initiative introduced over 1,000 professionals, said Jing Huimin, who has worked at Ordos' development and reform commission since 2007. He explained that it's easy to fall in love with the city, which he says is open, tolerant and full of opportunities.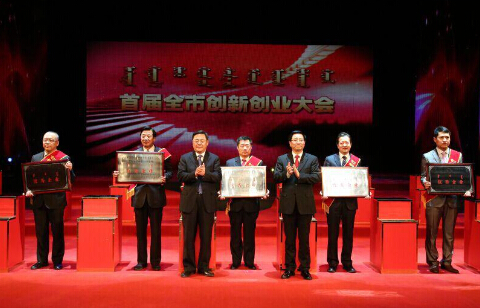 Ordos's first innovation and entrepreneurship conference is held in March, 2015. [Photo/China Daily]
In the earlier 1990s, the dairy giants in Hohhot were growing rapidly and the top four groups in Ordos also attracted much attention.
One of them, Erdos Group, does not sell products in the international market, but also has the pricing power for raw cashmere in this market. Inner Mongolia Yitai Group is the only one of the four with coal as the main business.
Since 1995, the four groups have been listed on the stock exchange and recognized as the first tide wave of Ordos' businesses.
China's high-speed development brought high demand for energy at the end of 1990s. Ordos has launched a second wave of businesses based on coal, and group of privately-owned coal business has emerged.
Meanwhile, state-owned energy enterprises also settled in Ordos, such as Shenhua Group, accounted for half of Ordos' coal output.
In 2009, Shanxi province, a coal province in North China, started to integrate its production. As a result, Ordos has to fill nearly a half of the country's coal demand, and the government revenue increased sharply.
However, at the end of 2011, coal prices fell The city experienced social problems, such as real estate bubble.
In March, Ordos held its first innovation and entrepreneurship conference to start a third wave of businesses. The new normal brings the city new challenges, but also numerous opportunities, according to Bai Yugang, secretary of Ordos Party committee.
At present, the city is developing clean energy, modern chemicals, manufacturing and tourism.
It built two power transmission channels with investment totaled 50 million yuan ($7.85 billion).Eleven projects in modern coal chemicals are under construction with total investment of over 150 billion yuan; a total of 245 billion yuan was invested in 120 manufacturing projects. The city will spend another 3.2 billion on four cloud-computing projects.
The city aims to increase non-coal industry to more than 70 percent of the total with a variety of measures, including cultural tourism.
Compared with the Hohhot, capital of Inner Mongolia, Ordos' tourism revenue is far lower accounting for less than 3 percent of its GDP, says local tourism chief Gao Hua. However, Ordos is home to the only two 5A-level scenic spots in Inner Mongolia, in addition to 17 at 4A-level. Moreover, Ordos has advantages in environment, transportation and infrastructure, Gao said.
The city growth is like a person growing up, according to the Party secretary of Ordos. Innovation and entrepreneurship will bring more opportunities for the city in the future.