A voyage into Ordos, Inner Mongolia
(chinadaily.com.cn)
Updated: 2015-09-07
A river is a precious gift,from nature especially for a city located in North China's Inner Mongolia. The Wulanmulun River, is a branch of the Yellow River which runs through Shenmu county in north Shaanxi province to the Kangbashen new district of Ordos.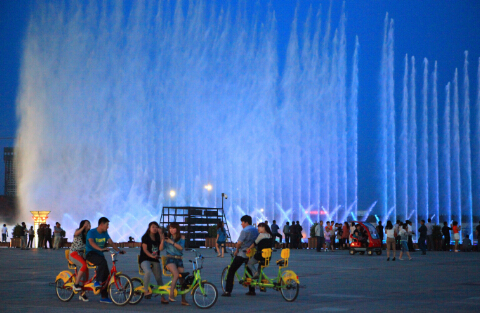 A fountain by the bank of Wulanmulun River in Ordos, Inner Mongolia. [Photo by Ren Haixin]
Ordos started construction of Kangbashen new district ten years ago and the district had a population of over 100,000 by 2015. It is the location of most of Ordos' governmental organs and cultural venues, including a 2.5 kilometer outdoor culture and arts corridor. The corridor neatly links several functional areas, including the administrative section, the entertainment section and commercial district.
Walking along Ordos' axis from the municipal government building to the bank of the Wulanmulun River, is to experience the city's history and modern atmosphere. From the giant parterre, to the uniquely-designed museum, to the city's library and theatre, every stop is a tourist attraction.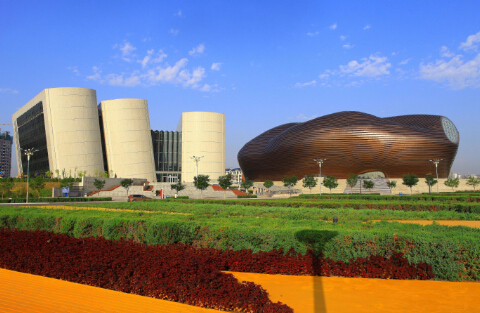 Ordos' library and museum are special designed. [Photo by Ren Haixin] 
In 2012, Kangbashen new district was listed as a national 4A-level urban scenic spot, the first in China. They never expected the district to be a 4A-level scenic area when they started it, said Ji Jiefeng, an official of the district's administration committee..
The district's streets are not crowded in the day, but it was surprising to find the library almost full when I walked in. Yang Aiping at 28-year-old has been working in the library for seven years. She loves her job and life there. All the services in the library are free to public, she said, and the library organizes exhibitions and lectures occasionally.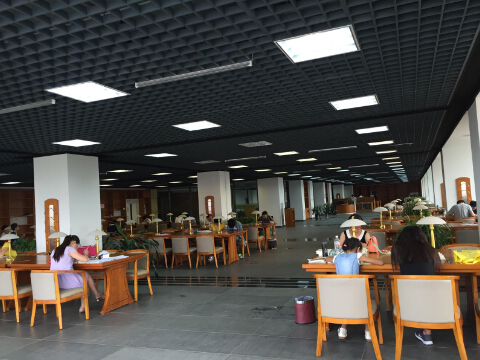 A corner of Ordos' library. [Photo by Yuan Hui/China Daily]
In earlier years, some said the Kangbashen new district was ahead of its time. Local citizens in the district's Genghis Khan Square said that they are benefiting from such construction, whether the good environment or the convenient facilities such as hospitals and schools.
The city of Ordos experienced unbalanced development when coal took a leading role in the economy. However, Kangbashen new district can create a new development platform to develop itself into an area highlighting ecology and culture, a place suitable for living and traveling.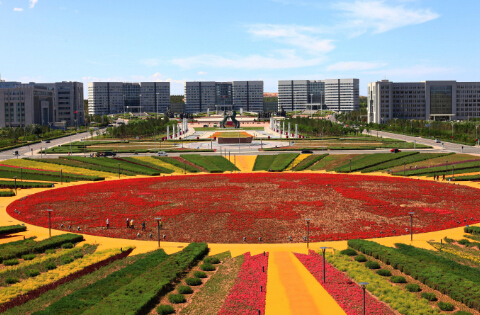 A giant parterre in the Kangbashen new district, Ordos. [Photo by Ren Haixin]
Several days' stay is not enough to understand a city, but it's enough to learn that it has a long history and rich culture. Ordos already has advanced infrastructure and a good environment, now it needs more bridges to the outside world.