Shanty town rebuilding builds new life for forest people
(chinadaily.com.cn)
Updated: 2015-03-26
Guo Yongcai had a happy Chinese Lunar New Year not only for the festivity itself, but for the spacious new home he and his family just moved into from the shanty that they lived in for dozens of years.
Guo, together with about 300,000 people in the Inner Mongolia autonomous region, moved into the new home thanks to the shanty town upgrading program that has been carried out by Inner Mongolia Forestry Industry Group.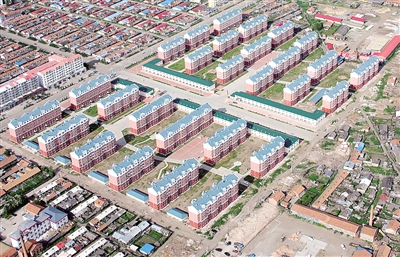 A bird-eye's view of the new buildings for these people moved from shanty areas in Inner Mongolia. [Photo/news.china.com]
Despite China's fast economic growth in recent years, there remain a large number of people living in shabby houses. Central and local authorities have taken the redevelopment of shanty towns as one of their top policy priorities to improve those people's living standards.
Inner Mongolia Forestry Industry Group started to carry out the pilot shanty town upgrading program in 2008. In January 2014, President Xi Jinping visited a forestry area managed by the group and required that the implementation of the program should be accelerated so that local people can move to new homes "as soon as possible".
After that, the shanty town rebuilding initiatives have gathered pace and benefited nearly 300,000 people, including Guo.
"When we lived in the old shanty house, life was hard, especially in the cold winter," said Guo. "In the morning, we had to get up early to light the stove (to heat the house) and clean the snow; now (after we moved into the new apartment) it's much easier," he said, explaining that there is central heating in the new apartment and cleaning is done by special property management personnel.
"I never dreamed to live in such a nice new home," said 83-year-old Tian Xiuying, who lived in a small, low-roofed shack for more than 40 years. It's always dark since the window was very small, and the roof leaked whenever it rained, she said.
Edited by Michael Thai