Inner Mongolia ushers in high-speed rail era
By Liu Yufen (chinadaily.com.cn)
Updated: 2015-01-07
The Hohhot railway bureau will run 15 pairs of CRH (China Railway High-Speed) EMU (electronic multiple units) trains to connect Hohhot, Baotou and Jining in the Inner Mongolia autonomous region from Jan 8, according to a news conference held by the bureau on Jan 4. The announcement ushers in Inner Mongolia's high-speed rail era.
The Hohhot-Baotou-Jining railway is an important step in the history of the autonomous region's rail development, as well as the first move by the Hohhot bureau in building a high-speed passenger rail channel. Construction of the Hohhot-Zhangjiakou (Hebei province) high-speed railway, the first of its kind in Inner Mongolia, began in April 2014. The line will be connected to the Beijing-Zhangjiakou Railway, which will begin construction soon. The two lines will shorten travel time from Hohhot to Beijing by two to three hours and accelerate the integration process of the central and western part of Inner Mongolia and the Bohai Economic Rim.
The 15 pairs of EMU trains will run from 6:20am to 10:00pm and accommodate 18,000 passengers on a daily basis. A total of 26 bullet trains will run from east of Hohhot to Baotou, and four from Baotou to south of Jining, at intervals of roughly 30 minutes. It will take 59 minutes from Hohhot to Baotou and 60 minutes from Hohhot to Jining. Ticket sales began on January 5.
Ticket prices:
Hohhot-Baotou
First-class seat: 58 yuan ($9.34); second-class seat: 48.50 yuan
Hohhot-Jining
First-class seat: 55.50 yuan; second-class seat: 46.50 yuan
Timetable: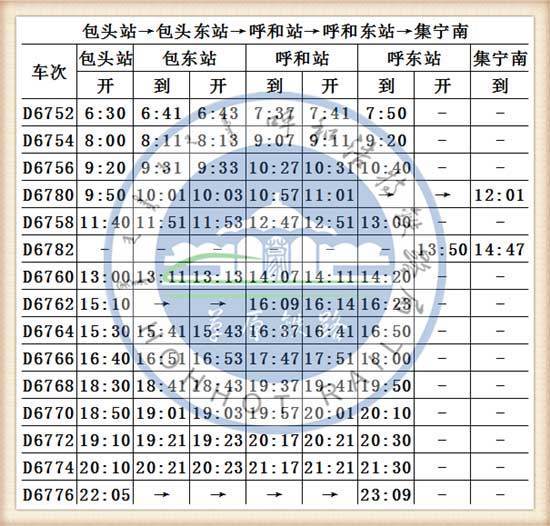 Baotou to Jining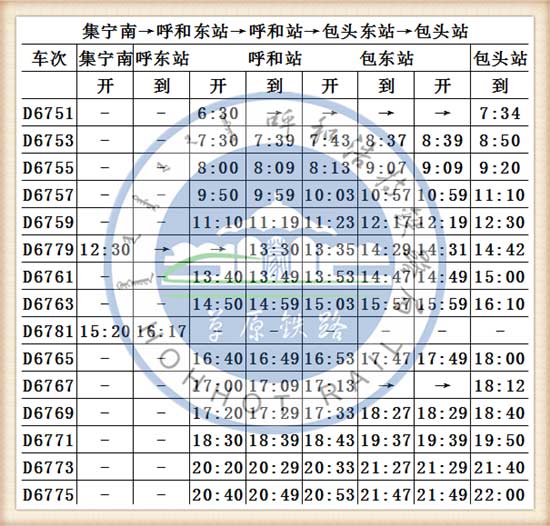 Jining to Baotou
Edited by Michael Thai