Quiet frontiers
By Pauline D. Loh (China Daily)
Updated: 2013-09-22
Manzhouli's Taowa Square is a popular tourist site, which features three huge Russian dolls, brass statues of the 12 Chinese zodiac animals and sculptures from various fairytales. Provided to China Daily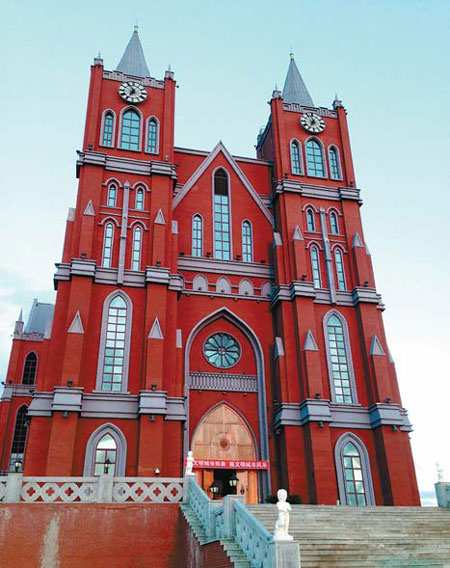 Manzhouli's famous Wedding Chapel is built on a hill, allowing visitors a vantage point from which to view the town. Cang Lide / China Daily
It's a peaceful northern post that has seen more than its share of China's revolutionary history. Today, it struggles to keep its unique position as a historic border town while facing increasing pressure to become economically viable. Pauline D. Loh visits Manzhouli in the Inner Mongolia autonomous region.
China has many border crossings on land and sea, but none has the romance and history of this little city tucked away in the northeast of the country on the vast Hulunbuir grasslands. On the map, it is settled like a tiny birthmark at the base of the Chinese rooster's comb. It's located many kilometers from its nearest urban neighbors in Heilongjiang province and about two hours from Beijing by air. The Russian town of Zabaykalsk is situated immediately north of Manzhouli.
Manzhouli is China's largest port of entry on land, and it carries the baggage of a lot of history, stamped by the influences of the past in both architecture and lifestyle.
This is an old land at the edge of vast, primitive grasslands that are wet, wild and windy.
Remains of prehistoric peoples have been found here, as was an almost whole mammoth skeleton. It's the traditional pasture grounds of nomadic tribes, ancestors of modern Mongolians and Manchurians, including famous invaders of the past, such as the Xiongnu and Khitan.
The town itself and its name actually originate from a rather humbling part of Chinese history when, in the declining years of the Qing Dynasty (1644-1911), the Russians forced Beijing to sign the Treaty of Aigun in 1858 and effectively created the present boundaries between China and Russia.
Another treaty signed in 1896 created the China Far East Railway, which opened up train tracks between China and Russia and made Manzhouli the first point of entry into China from the Russian bloc.
Manzhouli finally became part of the Inner Mongolia autonomous region in 1949 with the founding of the People's Republic of China.
In the early days of revolution before New China, Chinese Communist leaders were smuggled across the border here to attend meetings with their Soviet counterparts. Even further along the timeline, the last Qing emperor, Puyi, was captured at its railway station, in a failed attempt to escape across the border.
These days, however, the only people stopped at Manzhouli are travelers without the proper papers.
This is China's largest border checkpoint. It boasts a monumental guomen, or national gate, which serves double duty as a center to process border formalities and as a favorite tour site for domestic travelers.
Russia, within hailing distance and a double row of barbed wires across no man's land, is linked via the historic train tracks.
Only Chinese citizens are allowed into the checkpoint grounds. Foreigners, with or without passports, are normally refused entry.
Within the compound is a museum documenting Manzhouli's beginnings and rise to recognition. There's a shopping mall as well, selling everything from Russian chocolates to Siberian furs.
When the Chinese economy opened up in the 1980s, Manzhouli awoke from its long slumber as a back post. It became an important center for Russian-Chinese trade. By the 1990s, it was a booming hub of cross-border transactions.
Some of these businesses, however, fell by the wayside when Russian authorities banned trade on commodities they felt were draining their natural resources, such as the vast amount of timber that was going by the trainloads into China.
There were once hundreds of timber yards thriving in Manzhouli. But fewer than five still stand and, at most, only one operates, because of the higher costs of importing Russian logs.
This is only one of many links this Chinese border town shares with its nearest and largest neighbor.
Many Russians still visit, crossing the border from smaller towns and cities, such as Chita, Krasnokamensk, Irkutsk and Ulan Ude - all connected by rail.
The city's demographics reflect historic influences. While more than 90 percent of Manzhouli's inhabitants are Han Chinese, there are also Mongolians, Buryat Mongolians, Manchus and Russians.
Some Russians migrated here several generations ago and have Chinese names, Chinese spouses and very little of their mother tongue. The only betrayal of their origins is probably their sharper facial features, "especially the nose", says our guide Xiao Zhao, whose husband is the descendant of a Russian trader.
She tells us he no longer speaks Russian, although he has a grandmother who still cooks him Russian bread and borscht, the famous root vegetable soup served with sour cream.
At the largest and probably only international class hotel in town, guests are welcomed with a bread and salt ceremony at the Shangri-La Manzhouli, in a colorful display of tradition.
The hotel's young executive sous chef also manages a pretty authentic Russian menu, with shashliks (traditional kebabs), beef stroganoff and a pickled herring terrine taking pride of place.
Manzhouli's night scene, too, mirrors the influences, with nightspots and restaurants catering to Russian tour groups.
They come specifically for vodka and entertainment - especially live shows at such opulent restaurants as Maxim's, featuring Chinese and Ukrainian singers, acrobats and magicians.
But the dwindling trade between China and Russia is already showing its aftermath, and the glitzy nightlife is now attracting more tourists from other Chinese cities, with bigger wallets and a greater willingness to spend.
Signs in the city are often in four languages. Because this is the Inner Mongolia autonomous region, Mongolian is an official language, with Chinese and English also visible everywhere.
But at the heart of the action, along the Third and Fourth Avenues, the neon lights are still all in Russian.
In terms of architectural influences, there are wooden cabins and stone cottages that look more at home in the steppes than on the grasslands, and grimly uniform Soviet-style buildings make their presence felt. Huge orthodox churches dot city corners but have been mostly converted into secular use.
The city also holds a Guinness World Record for having the world's largest matryoshka, the Russian doll. It is a 30-meter-high construction inside of which shops sell the actual dolls, all carefully tucked inside each other in increasingly smaller sizes.
The outside of the huge taowa, as the Chinese call it, is painted with the images of three dolls, each respectively dressed in Chinese, Russian and Mongolian attire to represent the cultural demographics.
Manzhouli's Taowa Square is a popular tourist site. The square itself features brass statues of the 12 Chinese zodiac animals as well as sculptures from various fairytales and other icons of moral examples.
To attract a better tourist profile, the town had also built a dusty red cathedral-like building on a hill that allows visitors a vantage from which to view the town. This is Manzhouli's famous Wedding Chapel, which intends to attract couples to hold their marriage ceremonies here.
Besides the glitzy, exotic dollhouse buildings in Manzhouli and its rambunctious nightlife in Russian restaurants, coal mining is a thriving industry. Petroleum and other valuable natural resources have been discovered in the last 20 years.
Tourism is slowly shifting focus toward the area's natural environments.
In the right season, it's a bird-lovers' paradise, offering sightings of hundreds of thousands of cranes, wild geese, bustards and other migrating species on the vast wetlands along the rivers. Anglers, too, are attracted by opportunities to fish in the region's hundreds of lakes and rivers.
At the riverside resort of Hohnur, modern yurts equipped with TV sets welcome visitors, and there are thoughtful hygiene facilities set up all along the roads and at scenic locations for those important bathroom breaks.
Even so, Manzhouli is still relatively undiscovered.
One reason is possibly because of the long cold period and short "growing season", says Leslie Wang, general manager of the Shangri-La Manzhouli.
"There are limitless opportunities to develop tourism here. The summer and autumn periods are truly beautiful, with the wetlands and the grasslands at their best."
Yet the laidback lifestyle that's the attraction here can also be the biggest hurdle. There's no apparent hurry to develop tourist resources, and few flights arrive at Manzhouli airport apart from the two regular daily flights from Beijing. Even the flight from Inner Mongolia's capital Hohhot is a transit route from Zhejiang province's capital Hangzhou in southeastern China.
While the mining industry may be developing, it is not enough to support a thriving population on its own. Property prices are low in comparison to major Chinese cities, and 4,000 yuan ($650) per square meter condominiums are everywhere.
But there are few buyers. Most who do buy use the properties as holiday homes.
The answer to sustainable urban development still seems to point to tourism - but with a more educated approach that will sell the attractions without destroying the innocence and originality that so characterize Manzhouli.
Contact the writer at paulined@chinadaily.com.cn
Cang Lide contributed to this story.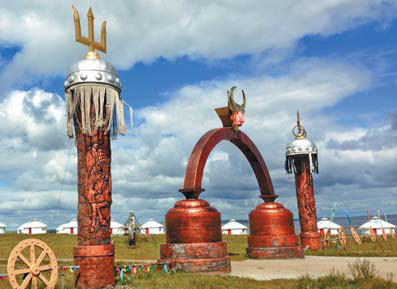 The entrance to the Hohnur riverside resort. Cang Lide / China Daily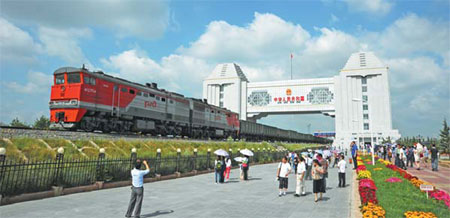 A train from Russia passes by China's monumental guomen, or national gate, in Manzhouli. Li Zhicheng / for China Daily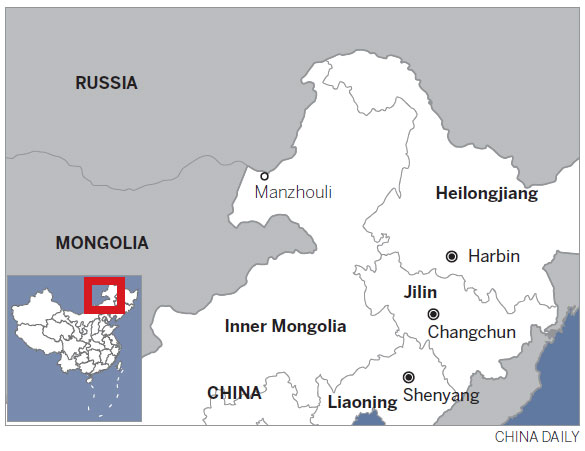 (China Daily 09/22/2013 page1)