Emotional dependence on wheels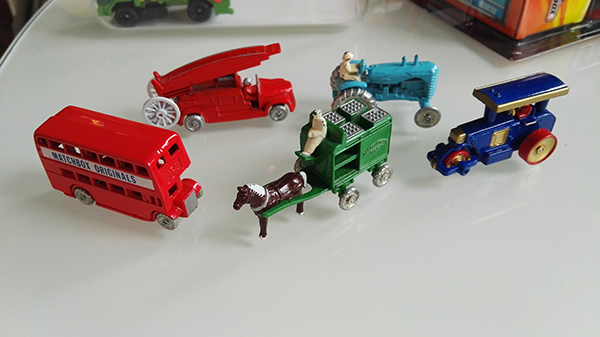 A retro set of Matchbox's early car toys. [Photo by Cao Chen/China Daily]
Shi, who has been collecting Matchbox cars for 31 years, said that the toys were more than just a form of entertainment-they were also his first foreign language teachers.
For instance, he remembered how he would excitedly read all the product descriptions that came with each vehicle, and this helped to improve his grasp of the English language. When children were only beginning to learn English during the fifth grade, Shi was already familiar with words such as "caution", "firefighting" and "refuse truck".
Shi added that these toys also gave him insights into another world beyond China. In the 1980s, China was home to just a handful of car brands, but Matchbox taught him that others such as Jeep, Volkswagen, Audi, Skoda and Reynolds existed elsewhere in the world. He also recalled how he would get excited whenever he spotted familiar foreign car brands in imported movies.
A major milestone in the history of Lesney Products was when the company produced a miniature model of Queen Elizabeth II's coronation coach in 1953. A few months later, the company's co-owner Jack Odell designed an even smaller model that could fit in a matchbox for his daughter to take to school as a toy. This formed the foundation upon which Matchbox would build its success.
In the 1960s, Hot Wheels, a new line of vehicles by US toy giant Mattel, emerged to become Matchbox's fiercest competitor. To keep up with the competition posed by these new toy cars that had racing-style wheels, sleeker tires and brighter colors, Matchbox bolstered the quality of its toys and expanded the number of models.
In 1982, Matchbox was bought by American Universal Toys and gradually opened factories in Chinese cities such as Shanghai.