Culture Insider: Admiring flowers in ancient times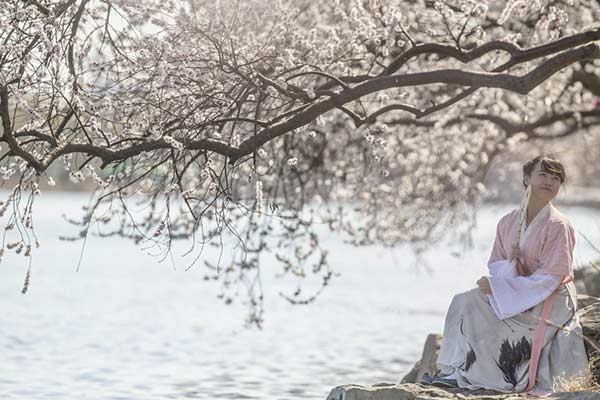 A girl in traditional Chinese costume enjoys the peach blossoms at the Summer Palace in Beijing on March 15, 2017. [Photo/VCG]
With the arrival of spring, flowers are blooming in the warm air. Cherry and peach blossoms, peonies, tulips and many other flowers are adding fragrance to the beautiful season.
People are taking spring outings to admire the flowers. While, our first thought when we see beautiful flowers is to take photos and post them on social media platforms, ancient people in China had their own ways of admiring flowers.
Various ways of admiring flowers
During the Five Dynasties and Ten Kingdoms (907-960), it is said that the official Han Xizai loved to burn incense near a flower vase because he liked the combination of the fragrance of flowers and incense. Using flowers in this way was popular during Song (960-1279) and Yuan (1271-1368) dynasties.
During the Tang Dynasty (618-907), people preferred to chant or sip wine while being surrounded by flowers. Music also goes well with flowers and refined scholars in Song Dynasty loved to play music to flowers. The musical instruments were thought to match different kinds of flowers. According to ancient book records, elegant flowers such as jasmine went well with the musical instrument heptachord.
China's only female emperor Wu Zetian of the Tang Dynasty was obsessed with flowers. The peony in ancient Luoyang was quite famed and each year when peonies flowered, she would hold celebrations and feasts.