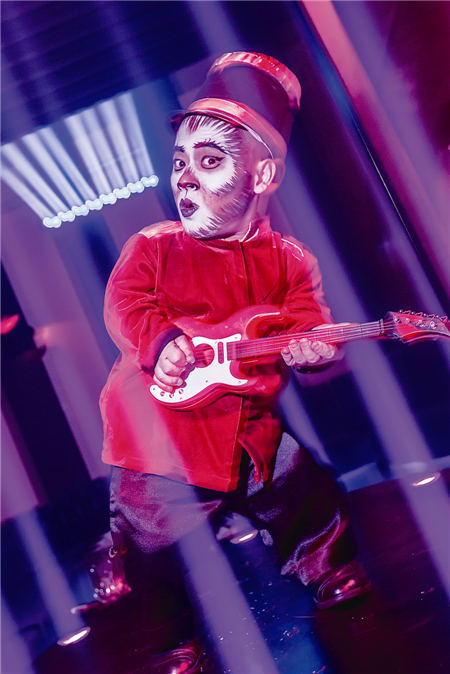 Sailor's costumes and organ grinder's monkey outfits are one thing, but having to wear tight women's lingerie falls more into the "occupational hazard" category for Cirque le Soir performer A Gang. Photos provided to Shanghai Star
He's under a meter tall but he goes to the coolest parties in town, gets kissed by leggy models and hugged by millionaires. But life's not all a bed of roses,  he tells Matt Hodges.
If you have visited Cirque le Soir on the Bund during one of its less salubrious themed parties, you may recognize A Gang. He sometimes appears as the Crying Baby Bubblehead Midget. Maybe you took a photo together, tried to pick him up, or challenged him to an arm wrestling match, as I did.
The 34-year-old from Hunan is one of two Chinese midgets working the coolest freak show in town, along with a cast of characters from Europe that includes Anton the Giant, sword swallowers, contortionists and voluptuous burlesque dancers.
The club opened in August 2013 and has other branches in London and Dubai.
A Gang suffers from pituitary dwarfism. When he was younger he never imagined he would be spending his nights cavorting with models and millionaires in one of Asia's most glamorous cities.
"Yeah, it is pretty cool," he says. "Sometimes the models try to kiss me. But you get used to it.??
"I don't really like all the make-up, or some of the sleazier parties, especially when I have to wear tight women's underwear," he adds, lighting up another Yunyan cigarette and staring into the distance.
"It's also annoying when people point and stare, or creep up behind me and try to pick me up, even though that's not allowed.
"I'm heavier than I look (30 kg) so I worry the girls may injure themselves."
He is 88 cm "with heels," as he says, and his best friend is Jimmy, the only colleague he can maintain eye contact with without looking up.
"They bring out the best in each other. When one's away, the other is much more introverted," says make-up artist Kathryn Robbins from Birmingham, England as she transforms the club's popcorn vendor into a black-and-white harlequin one Wednesday night.
"A Gang is super kind and thoughtful. He's a great performer and super sexy. He has the best sense of humor."
He smokes two packets of strong Chinese cigarettes a day and likes to sing Chinese songs, especially the hits by Hong Kong superstar Andy Lau. He claims to know only a few words in English, has an infectious smile, and oozes charm.
He may lack Peter Dinklage's acting credentials, but he is, by all accounts, including that of my translator's, much sexier than the diminutive American actor.