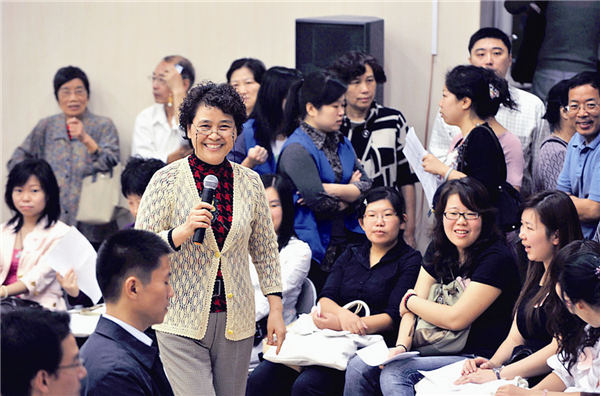 Fan Benliang has drawn quite a following due to her successful track record. Provided to Shanghai Star
He may actually get around to proposing, but he may need a little push and help along the way. Wu Ni talks to a lady who has helped thousands walk up the aisle.
Fan Benliang has played cupid to thousands of young men and women over the past 30 years, and this retired worker from the Pudong New Area expects nothing in return.
According to an old Shanghai custom, a pair of newly-weds should give 18 stewed pork trotters to their matchmaker to thank her for a successful marriage, but Fan has politely turned all gifts away.
"I have been a vegan for 20 years. Seeing the young ones happily married is the biggest reward for me," says the 60-year-old.
Matchmakers have always played a vital role in China. In olden times, women hardly stepped out of their boudoirs, let alone be allowed to work outside or meet strange men. Even just a few decades ago, men and women were often too shy or conservative to talk to each other.
Social conventions may have changed, but there are still large numbers of single urban young people who cannot find their ideal "other half". In Shanghai alone, a total of 180,000 have registered in the city's matchmaking agencies to look for their Mr or Mrs Right, official statistics show.
Fan was born in Shanghai and is one of the "educated youths" of the 1970s who was sent down to work on a farm on Chongming Island. She stayed there for 10 years. She joined the Communist Party of China when she was 22 and always believed she should "do something good for society".