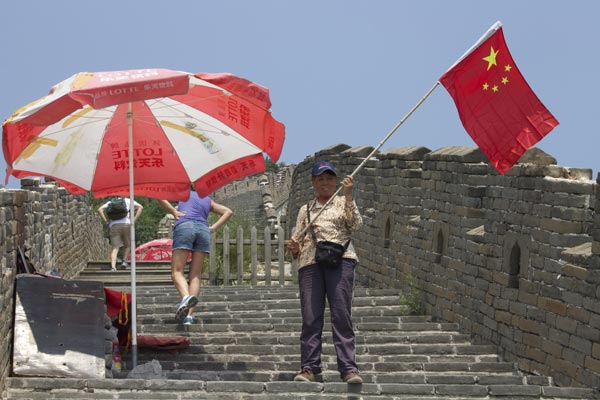 Wang Caihua, 54, waves a giant Chinese flag as tourists climb the steep path at Mutianyu portion of the Great Wall. Wang said she travels two hours each morning to get to the Great Wall and sell souvenirs to tourists so she can put her son through college. Alison Sullivan / For chinadaily.com.cn
Vendors at the Mutianyu portion of the Great Wall are fearful of a tourist company's plan to remove them, ending a way of life that has endured for years.
MUTIANYU -- Visitors determined to scale all 22 towers at the Mutianyu portion of the Great Wall of China encounter hot sun, steep steps, and Wang Caihua.
Two hours and two coats of sunscreen from the first watchtower, weary visitors will find Wang and her souvenir table wedged in the steps on the final steep ascent to the last two towers.
On a hot, recent Saturday afternoon, Wang stood waving a giant Chinese flag and smiled down at the sun-soaked climbers who blink up at her through eyes stinging with sweat. Her long-sleeved blouse billowed in the wind and a blue baseball cap shaded her sun-kissed face.
"Water, beer?" the 54-year-old called out.
For most travelers, a trip to the Great Wall is a once-in-lifetime pilgrimage. But for Wang, it's her job.
For seven years she's sold souvenirs and refreshments on this section of the Great Wall. Wang wakes up at 5 am each day to make the two-hour trek up a muddy path near Beigou village and stations herself on the steps from 7 am until 5:30 pm. The farmer's daughter has lived in the village her whole life.
Wang endures the grueling work so her 21-year-old son can study in Beijing to be a pharmacist. Her daughter, 31, who also went to a Beijing university, taught her mother the few English phrases she knows.
"I do this every day to support my children because I didn't get a good education. I only went to junior high," Wang said under the shelter of a makeshift umbrella that shields her wares from the fading powers of the sun.
No matter the motivation, Wang and other vendors may soon see their livelihood under threat.