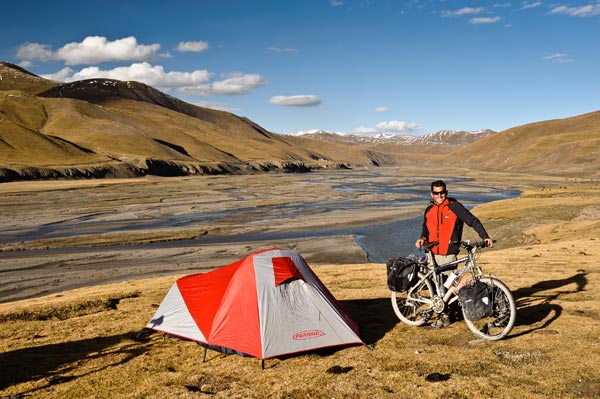 David Barrionuevo explores the beauty of Sichuan province, which he has visited many times. Nicolas Marino / for China Daily
He has cycled across most of China and plans to keep traveling anywhere he can reach on two wheels. Deng Zhangyu chats to a man who lives by the seat of his bicycle.
How much did your bicycle cost? Are you married? How many children do you have? These were the most common questions posed to Spaniard David Barrionuevo as he rode across China over the past five years.
Barrionuevo's friend who runs a bike shop in Madrid paid for the bike. And the cyclist has fallen in love with a woman in Beijing, but he is not married yet, so no children.
Since moving to China in 2008, Barrionuevo has ridden his bike Manila, his "true passion", throughout China, from Qinghai Lake in Qinghai province, to the mountains and rivers of Sichuan province and the snow-covered mountains of the Xinjiang Uygur autonomous region.
"When I ride to those places, people invite me into their houses for dinner and offer me a bed. They are very nice and like to share their stories with me," says the 39-year-old as he shows pictures of his trips. Some are photos of remote landscapes, others are of the people and families he met on the road.
Every time he arrives in a new place, he learns how to say sorry in the local dialect, to hopefully avoid causing any offense, but the people he met in the western part of China are often very kind.