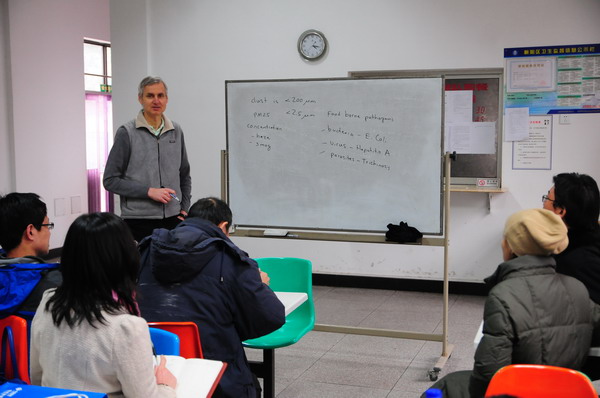 David Selent leads debates that cover almost everything, from Ukraine's turmoil to the Tesla Model S automobile, from green energy to healthy lifestyles. Provided to China Daily
Meet the Canadian expat who became the talk of the town through organizing languange exchanges
David Selent works as vice-president at a mining equipment company during the week, but on Sundays he wears another hat, as a foreigner host at a local English corner in Beijing. He has no contract and receives no pay. For the past seven years, Selent has clocked in at 2:30 pm almost every Sunday afternoon for this volunteer job, and enjoys "the very interesting discussions" with Chinese participants.
The English corner is set in the cafeteria of the administrative building in the Tuanjiehu Park, Chaoyang district.
From Ukraine's turmoil to the Tesla Model S automobile, from green energy to healthy lifestyles, the topics flow in every direction. Every weekend, the 50-something Canadian will lead a lively discussion about almost everything with a dozen local residents who wish to better their spoken English.
"It's interesting because we talk about one topic and it will bring up some interesting English phrases, and it will take us to another topic," Selent says. "It's a wide-ranging discussion."
It's not like the typical English corners in China where a bunch of Chinese practice small talk with each other. The discussions usually go deep into the topic, such as the life-cycle analysis of green energy, or sometimes it turns into a debate at a philosophical level, such as nature vs nurture and skill vs luck.