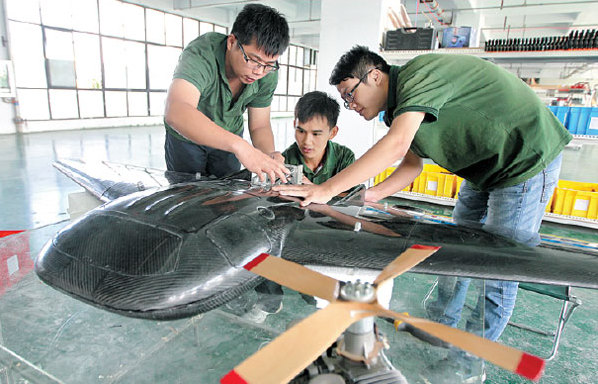 Technicians work on a unmanned aircraft at the plant of Huaibei Tianlu Aero Science and Technology Co Ltd. Provided to China Daily
For almost a decade, they were just three young
talents chasing their vague dreams in Beijing. Now they are renowned entrepreneurs running their own company in their hometown.
The business that Yao Xuefeng, Men Zhenyu and Zhao Yi are engaged in belongs to an emerging industry on which they are very bullish.
"We believe that the unmanned aircraft industry will have a prosperous future, while our real dream has just set off," says Yao Xuefeng, executive general manager of Huaibei Tianlu Aero Science and Technology Co Ltd.
In 2002, Yao quit his administrative position in a State-owned company in Huaibei, his hometown and a city in northern Anhui province, and went to Beijing seeking better opportunity for personal development.
"The city was not so overcrowded as it is today," the 38-year-old man says.
He soon found a new job in marketing, which he thought he was good at. Five years later, he became a professional manager in a private firm in the capital.
Meeting by chance 12 years ago, he and his partners - all with similar life and marketing experience - soon became good friends. Zhao was running a wealth management company while Men was already the leader of an unmanned aircraft research and development team in a Beijing-based company.