Having fun with fabric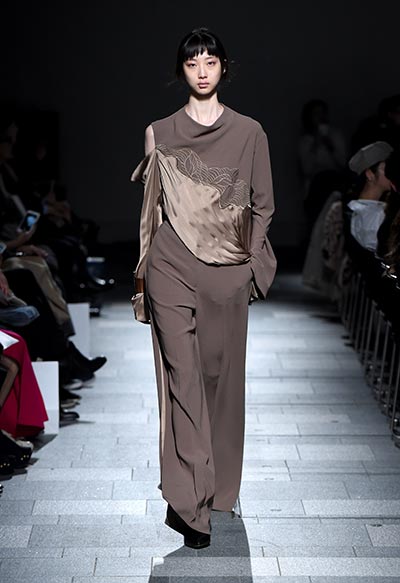 Wood is one of the many innovative fabrics on the runway of the recent Tokyo Fashion Week, which showcased the work of 52 designers who are good at handling high-tech and specialty fabrics. [Photo/Agencies]
Amatsu says the theme of his collection was "combine"-combining fabrics to create something that was both different and more beautiful.
The persimmon was originally very hard. "Even the sewing machine needle couldn't go through it," he explains. So he stripped it down to 0.14 millimeters wide and bonded it with fabric to make it stronger.
He then stitched it into a lace butterfly pattern. "It's quite heavy so when you move with the dress it makes a 3-D silhouette," he says.
Throughout he was careful to preserve the color of the wood, making it look almost like pencil shavings or delicately processed tree bark, and there were belts and statement bags in the same material.
Inspiration comes from the world at large. "I'm always looking around to find something interesting which can be key for new designs, like the movies, music, architecture and so on," he says.