Having fun with fabric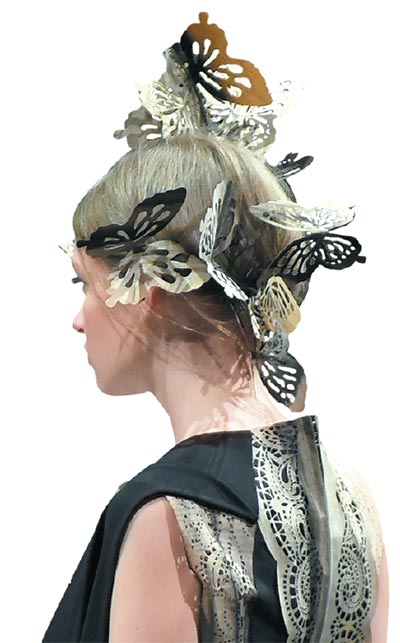 Wood was fashioned into delicate butterfly hair pieces. [Photo/Agencies]
Wood fashioned into lace and sculpted into evening dresses: The Hanae Mori Manuscrit label led the way this Tokyo Fashion Week in showing the world the original craftsmanship that helps set Japan apart from the crowd. Dresses of persimmon-wood lace paired with soft falling black fabric were the star of the show at designer Yu Amatsu's autumn/winter 2017 collection for the brand that left fashionistas giddy with excitement.
Discs of chestnut and walnut were used on a dress of interlocking triangular panels, homage to Issey Miyake's iconic Bao Bao bag, while wood was fashioned into sleeve ties and delicate butterfly hair pieces.
Japan is famous for high-tech and specialty fabrics, which not only supply the likes of Chanel and other celebrated couture houses, but also provide constantly shifting inspiration for homegrown designers.
Misha Janette, a Tokyo-based stylist, creative director and blogger who has lived in Japan since 2004, says Japanese fashion was often less about entertainment and more thoughtful with "amazing" material.
"They're keen on working with young designers to create new fabrics ... that sets them apart," she says. "Each little village has its own special kind of fabric."