Finding fantastic fashion far away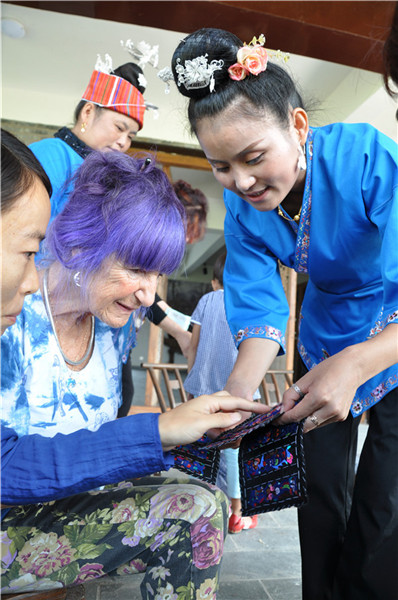 Natalie Gibson gets a close look at Miao embroidery during her trip to Guizhou. LIU XIANGRUI/CHINA DAILY
"I didn't know they are so scattered."
The British artists and Chinese students spent a week traveling throughout Guizhou province to visit museums, markets and villages. They learned about such crafts as embroidery, silver-smithing and batik.
The Miao traditionally wear intricately ornamented silver jewelry, especially on important occasions. The ethnic group's embroidery is on China's intangible cultural heritage list.
The researchers engaged silversmiths in a village known for producing some of the best jewelry to learn about every dimension of the craft from inspiration to production.
Gibson says she was particularly impressed by a private museum dedicated to Miao culture in Guizhou's capital, Guiyang. It exhibits intricate garments, including some dating back more than a century.
She was also struck by the sophisticated products the museum had developed, such as scarves based on Miao patterns.
Gibson says she was also amazed by their culture, such as the Miao creation story. All living things, including humans, hatched from the eggs of the Butterfly Mother and, consequently, should be treated equally.
"Stories are an important source of inspiration for creative work and teaching," she says.
Gibson often travels internationally in search of ideas.
She hosts an annual printing workshop in India, where she has studied traditional-printing techniques from a local tribe.
"Traveling really inspires me," she says.