Your summer holiday guide to Beijing's best exhibitions
As we embrace the hottest days of summer, students are starting their summer holidays. Have you made plans yet to survive the scorching heat and make the most of your time off? Beijing's swathe of exhibitions is the ideal way to stay out of the heat and expand your mind at the same time. Here are some of the best exhibitions ongoing in the city.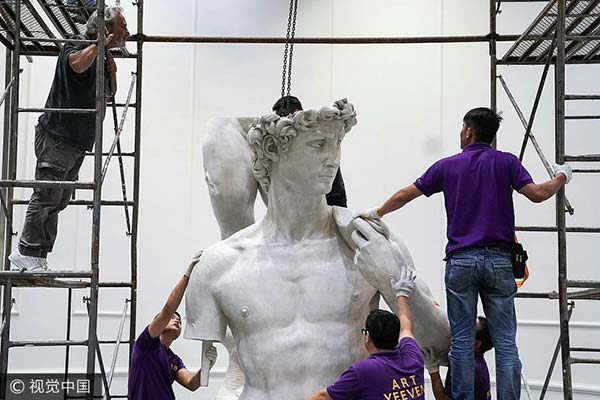 The crew assembles a replicated statue of David. [Photo/VCG]
1. The Divine Michelangelo Art Exhibition
The exhibition, comprises 105 items, demonstrating Michelangelo's artistic achievements in drawing, sculpture, architecture, poetry and fresco.
It features several of his renowned statues including one of only three life-size replicas of David in the world.
Using VR technology, the exhibit recreates the medieval scene from hundreds of years ago allowing visitors to feel as if they are in the Sistine Chapel looking at the Genesis and The Last Judgment.
Learn more here
If you go:
10 am - 9 pm, through Oct 10. Bird's Nest Culture Center, 1 National Stadium South Road, Chaoyang district. 010-64553358. 40 -160 yuan ($6 - $24)