New exhibition gives glimpse of Michelangelo's universe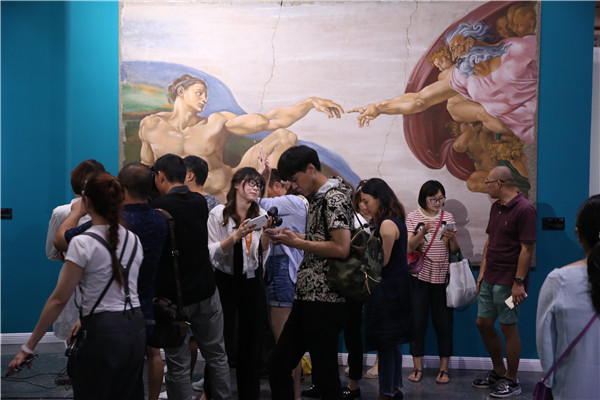 Visitors at the ongoing exhibition that showcases copies of Michelangelo's most celebrated works and his architectural designs at the Bird's Nest Culture Center in Beijing. [Photo by Jiang Dong/China Daily]
Italian artist and art historian Giorgio Vasari (1511-74) published one of Michelangelo's two biographies during the Florentine artist's lifetime. He is also known for writing other artists' biographies.
Although he was criticized for favoring Florentine artists in his writings, most agree that his comments don't exaggerate the status of David in art history.
The original 5-meter-high statue of David is on display at the Gallery of the Academy of Florence. But a reproduction of the same size is now on show at the Bird's Nest Culture Center, at Beijing's National Stadium, the main venue for the 2008 Summer Olympics.
It is the centerpiece of The Divine Michelangelo Art Exhibition, a show which runs through Oct 10.
The show features copies of the Renaissance man's most celebrated works and also his architectural designs.
In addition to David, the reproductions on show include The Pity, another signature work, which depicts a seated Mary holding the body of Jesus on her lap.
The original is housed at St. Peter's Basilica in Vatican City.
Michelangelo completed the two works before he reached the age of 30.
The exhibition also has reproductions from another body of work-the frescoes on the Sistine Chapel ceiling. The scenes include The Creation of Adam.
The reproductions are painted by Antonio de Vito, the exhibition's Italian curator and also a fresco painter based in Florence.
De Vito, who has also done copies of Michelangelo's sketches and drawings, says that the idea behind the exhibition is to provide a look at the artist, so that when viewers finish their tour, they have a basic idea of Michelangelo's greatness as a sculptor, a painter, an architect and a poet.