Artist's embrace of heaven and Earth seen in new show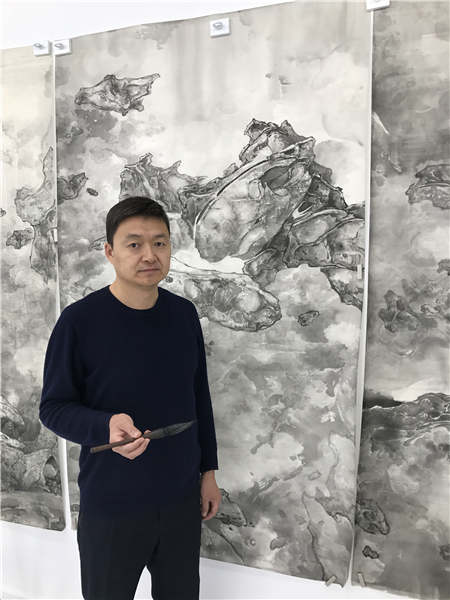 Beijing-based artist Tai Xiangzhou shows dozens of ink-brush paintings at his current exhibition, Speculative Cosmologies. Provided to China Daily
Ten years ago, Beijing-based artist Tai Xiangzhou was pursuing a doctoral degree in painting at Tsinghua University. He visited the sixth-century Longxing Temple in Zhengding, Hebei province, with his friend Hang Kan, a professor and director of Peking University's School of Archaeology and Museology. There they saw a revolving wood repository that measures 2 meters in diameter.
Hang told him that centuries ago, monks used the repository as a library where they kept and retrieved sutras. He was inspired to create an installation of similar structure in 2010, called Gateway of Expedient Means.
Tai has placed it at the entrance of his ongoing solo exhibition at Beijing's Ink Studio. He says he hopes it not only reminds people of the importance of knowledge and extensive reading - it directs viewers' attention to Chinese cultural traditions' worldviews.
He says the work shows a correspondence between heaven and Earth pervasive in classic Chinese architecture: The top dougong (interlocking brackets) structure connects people with the heavenly world, and the part beneath indicates the human world.
Tai puts dozens of books inside the revolving installation like the monks did. However, they are empty books. Tai hopes visitors can write down their feelings about the work and their ideas about the universe.
The relationship between people and the cosmos is the core idea of Tai's current exhibition titled Speculative Cosmologies. Besides the installation Gateway of Expedient Means, he also shows dozens of ink-brush paintings, which shows his exploration with the age-old genre depicting mountains and water over the decade.