Abstract art mixes local, Western styles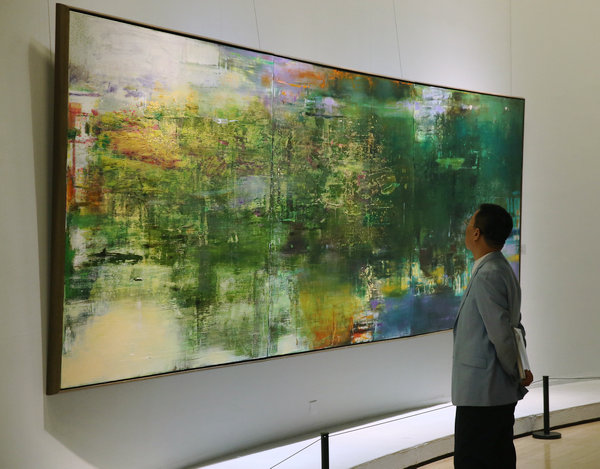 Wang Yancheng shows his abstract oil paintings at a solo exhibition at the National Art Museum of China.[Photo by Jiang Dong/China Daily]
Wang Yancheng, 57, sees painting as a process of being in love with the canvas. The artist, who divides his time between Paris and Beijing, says painting is like falling in love with someone, and he feels like he is being integrated with the brush, paint and canvas.
Wang's abstract oil paintings feature masses of vivid colors that offer a sense of grandeur. And many of his works are on show at his ongoing solo exhibition, Yan, at the National Art Museum of China.
The title of the exhibition comes from his given name, which means "evolution" in Chinese.
Wang's works remind viewers of Zao Wou-ki and Chu Teh-chun, two late Chinese-French artists who are known for blending Western techniques with Chinese cultural elements in their creations.