Chicken-shaped parrots become internet celebrity in China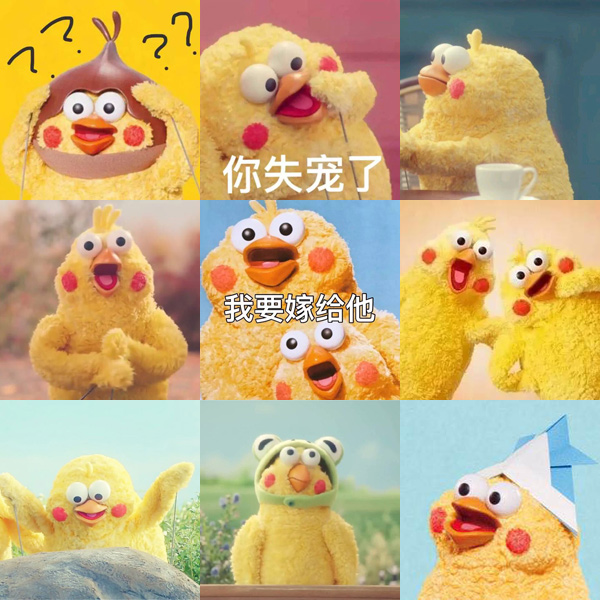 These pictures show nine popular emojis from the Poinko Brothers. [Photo provided to chinadaily.com.cn]
Big eyes, rouged cheeks, yellow feathers and most importantly, exaggerated facial expressions - this pair of what seems to be chickens looks funny and naughty. But wait…if you take a closer look, you'll see these birds are actually parrots.
Known as the No.1 newly emerging web celebrities of 2017, the Poinko Brothers have been widely used on Chinese social networks at the start of the Year of the Rooster during the Chinese Spring Festival period, as they are mistaken for a pair of chickens by most people.
As of Feb 9, the characters were a hot topic, discussed 27.33 million times on the Sina Weibo platform, a Chinese version of Twitter, and won the favor of an overwhelming number of domestic netizens.
"They have replaced Kumamon as my new favorites. Every time I post my status to show my current mood, I will attach a picture of them because they can bring more likes from my friends," Weibo user Po Xiaohai said online.
Origins of the parrot brothers
As they are so hugely popular, you might wonder about the origin of the emerging stars.
Actually, they are the newly released mascots by NTT DOCOMO, Japan's largest telecommunications company, to attract customers and promote products.
They belong to the Poinko family. The parrot with a long face and three hairs is the elder brother while the one with the round face and one hair is the younger brother.
The elder brother loves his younger brother very much and likes to tell many jokes to amuse him. The younger brother loves sweet food and tries to lose weight but always ends in failure.
They are the most famous characters, but do not represent the whole Poinko family. Other members include 20,086-year-old Poinko Master, Poinko Sister, who is crazy about love and Poinko Doctor, who has 10 hairs on the head.
They were created in December 2015 and were featured in many eye-catching advertisements for the company throughout 2016. In addition, their dancing has gone viral on Japan's internet.