Chinese artist wedded to a life of art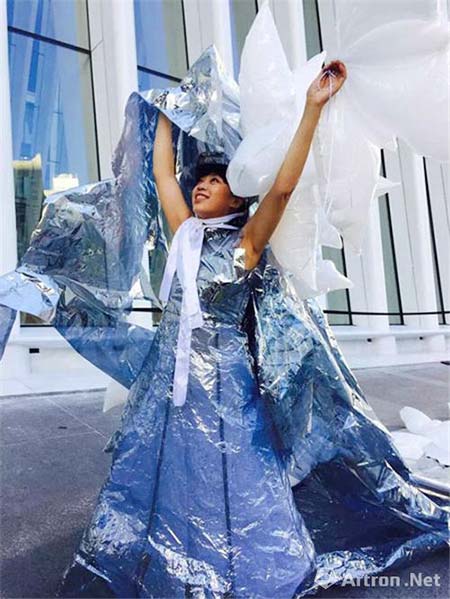 Kong Ning wears a specially-made wedding dress for a performance art piece in New York. [Photo/Artron.net]
Chinese artist Kong Ning has added another unconventional wedding dress to her collection of elaborate gowns for her series of unusual marriages.
She has just finished her performance art piece "Marry Peace" in the United States.
She wore a wedding dress composed of glass paper and inflated white peace doves at Times Square and the 9/11 memorial site in New York. The gown symbolized modern high rises. One hundred "windows" were cut into the glass paper "walls" for the beautiful doves to "fly" in and out of. Every passer-by could blow up a dove, sign his name on it and stick it on Kong's wedding dress.
This was the latest in her series of marriage artworks, after previously wedding herself to blue sky, the Beijing smog, grassland and the rainforest. The artwork "Marry the Blue Sky" won her an invitation to perform at the Art Basel in Hong Kong.
She is not only known for her performance art, but also her impressive paintings, as well as, poetry and architectural design.
"I always feel a strong desire to paint and write, and inspiration for me is like a volcano erupting which can't stop by itself," Kong Ning said. "Only after I release my emotions on the canvas, can I feel totally relieved."