Wood artist sees the trees from the forest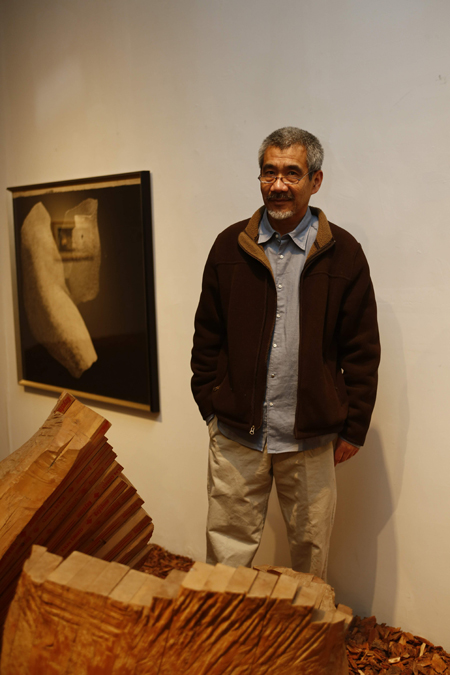 US-based artist Peng Xiaojia shows his sculptures, paintings, prints and installations at the SPSI Art Museum in Shanghai. Provided to China Daily
Would an artist prefer to have his creation exhibited in the museum, and admired by thousands, or kept by one person, who brings it out to play with occasionally?
Unlike most others, Peng Xiaojia would choose the latter destiny for his favorite creation without hesitation.
He would like the sculptures to involve and interact with people - to be touched, handled and played with, rather than kept in a glass case at distance.
About 70 sculptures, paintings, prints and installations by the artist are on show at the SPSI Art Museum in Shanghai until April 7. This is the first large-scale retrospective exhibition for the 58-year-old artist.
The exhibition halls are covered in pine bark and bits of wood. The whole space smells like the forest.
Starting as a teenage apprentice at a boxwood sculpture studio in Shanghai in the 1970s, he studied art and sculpture in Beijing, and then Oklahoma and Maryland in the United States. Then he settled down in Fitzwilliam, New Hampshire, to be an artist.
Peng has worked with wood for most of his life. Peng describes his creations as "striking a hammer to the East and hitting a club to the West", rather than following one particular stylistic model.
From his early period's figurative sculptures depicting the seven deadly sins, to abstract experiments later with modeling and the mature phase sculptures that reflect the influences of Chinese art and philosophy, Peng has presented the refined techniques of handicrafts as well as the originality of an artist.
His Book series best illustrates his balance of art and craftsmanship. These small sculptures are about the size of an ordinary book, often with bound pieces that fold and open like books. Inscribed with a ready sentence or phrase, these works often carry a philosophical idea, a poetic analogy or literary allusion.
The most interesting and complex are the Pod Press mini series based on a poem by Guan Han-qing (approximately 1220-1300), in which the poet compared himself to a bronze bean that wouldn't break however it was beaten, boiled, fried or hammered. It was an analogy to an intellectual's integrity through playful and colloquial expression.
For each piece of the Pod Press, Peng designed a mechanical unit with a bean pod in the middle. One is shaped like a treasure box fastened with metal screws. The other two are made entirely of wood, one pressing hard from left and right at the pod, and the other pulling it apart in opposite directions.