An artistic autodidact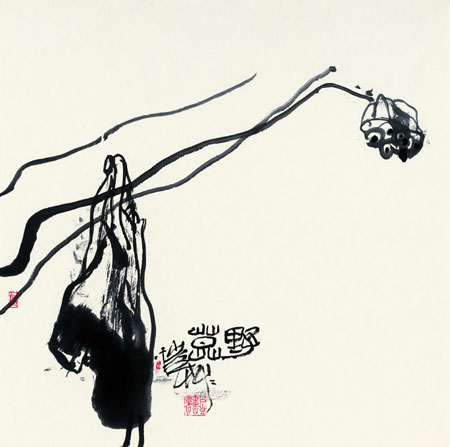 Pan Gongkai is the son of ink master Pan Tianshou (1897-1971) but nevertheless insists he is a completely self-taught "amateur".
His ongoing solo exhibition Dispersion and Generation at Today Art Museum presents his ink paintings, Chinese modern art history studies, installations and architectural works.
"The exhibition is not a retrospective, but an academic case to raise questions and discussions," the 66-year-old says.
The key word "dispersion" was inspired by thermodynamics and energy dispersing from higher to lower temperatures in an isolated space, leading eventually to a state of equilibrium.
"I use the concept to describe cultural assimilation," Pan says, giving the example of how blue jeans have become a worldwide fashion, starting from being the work uniforms of Native American cowboys. "I'd like to do something in reverse."
It took seven days to install all the works, which occupy three floors of the entire exhibiting space at the museum's Hall 1.
The first part features Pan's most recognized ink paintings, among them a 25-meter-long scroll and 10 other smaller works, with the lotus as a constant theme.
A screen the same length as the long scroll, shows Pan's process of creation.
"Pan's paintings are very imaginative and fully express the nature of Chinese ink art. At this point he has gone further than other contemporary ink artists," comments art critic Shao Dazhen.
"However, he hasn't yet stepped into the territory of abstraction, since he knows well that the imaginary nature of traditional Chinese ink art provides infinite aesthetic tolerance and possibilities."
Related:
Vivid portraits and interiors give new life to two oil-painting traditions in a new Beijing art show.More...