Making it real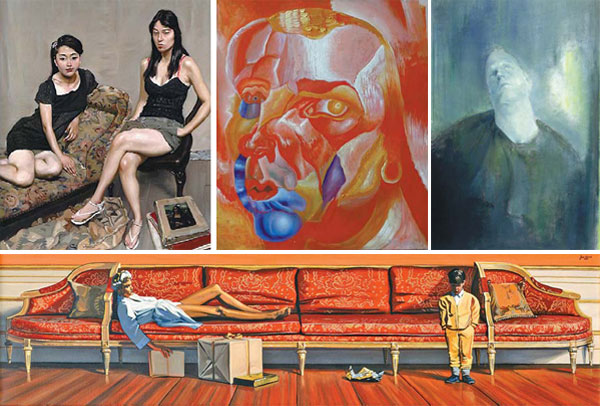 Clockwise from top left: Student from the Oil Painting Institute and professional model No 3, 2010, oil on canvas, by Chen Danqing. Akkerman 2012 No. 148, by Philip Akkerman. Thomas of Crete Island, 2007-2009, oil on canvas, by Mao Yan. 2 Confidente, 1988, oil on canvas, by Jan Worst. Photos provided to China Daily
Vivid portraits and interiors give new life to two oil-painting traditions in a new Beijing art show, Zhang Zixuan reports.
As two of the most traditional and intriguing themes in visual art history, portraits and interiors are still produced to an exacting standard by inheritors from different countries. At Beijing's Today Art Museum, figures portrayed by two Chinese artists and two Dutch artists are face to face, representing an intercultural dialogue in a contemporary context.
The four featured oil painters are China's Chen Danqing and Mao Yan, and the Netherlands' Jan Worst and Philip Akkerman. Nurtured by two countries with a celebrated history of portraits and interiors, the four artists are all devout disciples of their traditions, although varied in
styles
.
"The meaning of portraits and interiors goes far beyond their names. What they are really about are emotions of human beings," says Dutch curator Cees Hendrikse, who has been developing the exhibition for four years. At the museum gallery, he has all the paintings hung lower than the normal height to make them more intimate with the audience.
Artist Chen Danqing brings full-length and half-length portraits with interiors he painted in China and the Netherlands in recent years, as well as oil paintings copied from traditional Chinese interior pornographic paintings he featured back in his New York years in the 1990s.
The 60-year-old was well trained with realist techniques and achieved fame young in 1980 with his Tibet series.
His quick and accurate strokes create a sense of weight and volume, giving the figures life.
"Chen is a really outstanding painter. There are only a few painters in the world who can paint skin like he does - the softness, the feeling of bones underneath...," observes Akkerman, one of the participating Dutch artists.
Akkerman, on the other hand, has been solely portraying himself since 1981. His self-portraits now exceed 3,500 pieces: More than 60 exhibited this time document his facial changes throughout the years.
Related photos: