French star Huppert meets Chinese filmmaker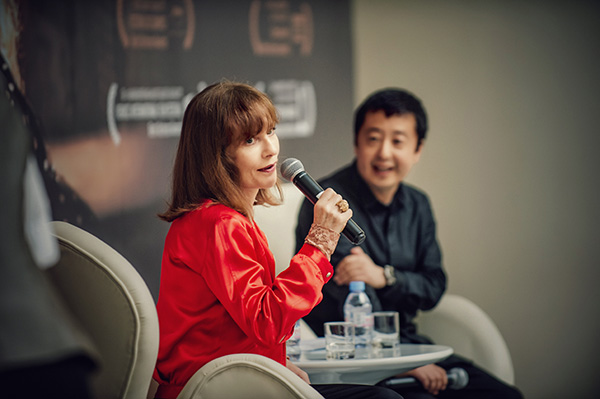 Isabelle Huppert speaks as Chinese filmmaker Jia Zhangke looks on. [Photo provided to China Daily]
French actress Isabelle Huppert kicked off her visit in Chinese cities — including Beijing, Shanghai and Guangzhou — by having a conversation with Chinese filmmaker Jia Zhangke in Shanghai on June 10.
During their talk, the award-winning actress shared her experience of acting and exchanged her views about filmmaking with Jia, whose film Still Life won the Golden Lion Award for best film at the 2006 Venice Film Festival.
"I am both an actress and an audience. Each of my performances delivers my own thoughts," the actress said.
Huppert also gave a reading performance of French author Marguerite Duras' L'amant (The Lover) in Shanghai.
As part of the programs of the ongoing annual Croisements ("crossing") festival, which has been one of the biggest foreign cultural events in China since its launch in 2006, Huppert is doing a reading at Guangzhou Grand Theater on June 12 and will appear at Beijing's Tianqiao Performing Arts Center on June 14.
Related:
2017 Croisements festival starts from Beijing
French artist's chilling installations speak to young Chinese people