Internet film giant unveils new movies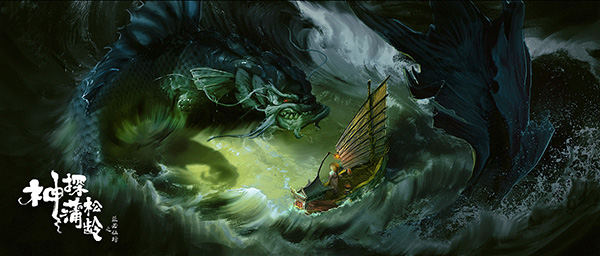 Conteptual poster of Shentan Pu Songling Lanruo Xianzong (The Genius Detective Pu Songling Celestial Tracks of Lanruo Temple) [Photo provided to China Daily]
Pu Songling is known for being behind the fantasy world of co-existing spirits and humans of the 18th century collection Strange Stories from a Chinese Studio.
But now an upcoming movie will include him as the protagonist.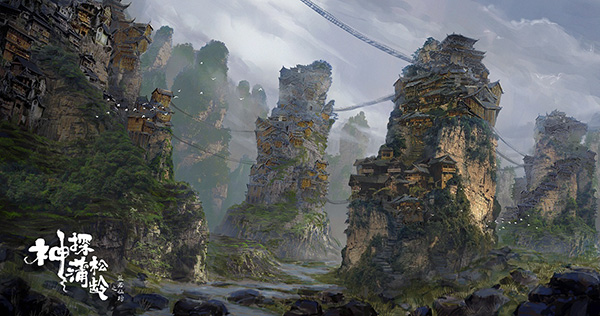 A town set in the movieShentan Pu Songling[Photo provided to China Daily]
Internet giant iQiyi's film body iQiyi Motion Pictures released the conceptual posters of the upcoming live-action and CGI-hybrid movie Shentan Pu Songling: Lanruo Xianzong (The Genius Detective Pu Songling: Celestial Tracks of Lanruo Temple) on June 9.
The movie, the biggest blockbuster hope of iQiyi Motion Pictures this year, has a budget of more than 100 million yuan ($14.7 million).
Adapted from post-1990 writer Teng Da's online novel with the same title, the movie will enliven the fantastic spectacles as well as set dramatical twists to follow Pu's criminal-hunting adventures.
Liu Xiaoguang, known for producing heavy visual effects-studded blockbusters The Monkey King and The Monkey King 2, says his visual team has already done many designs for the sets and characters.
The movie will soon cast A-listers and begin the shooting, according to the company.
More commercial movies were highlighted at the event.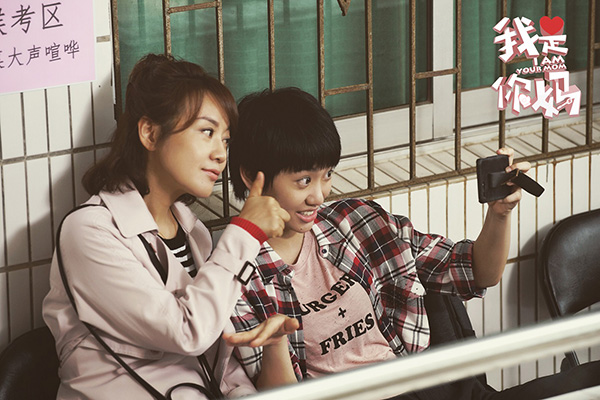 Actress Yan Ni co-stars her 19-year-old daughter Zou Yuanqing in the upcoming comedy I Am Your Mother [Photo provided to China Daily]
Comedy star Yan Ni's new movie I Am Your Mother, her first work to co-star with her 19-year-old daughter Zou Yuanqing, also released promotional posters.
Historical themes support other films, such as Kui Long Yu (The Jade of Kui Dragon), based on the Ming Dynasty emperor Zhu Qizhen and his loyal official Yuan Bin, and Lie Dong (A Harsh Winter), adapted from a true story of Chinese troops defending Nanjing against Japanese invasion in 1937.
The internet-backed company also highlighted its "17 Project" to support young directors and art-house titles.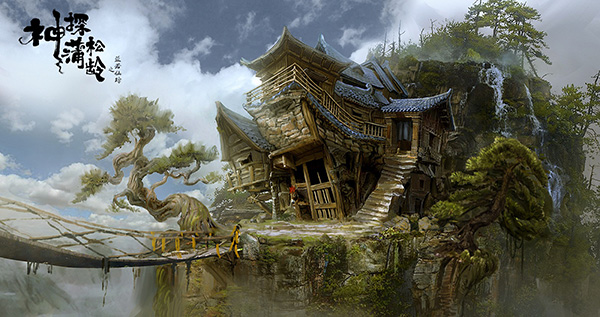 Home of the titular protagonist inShentan Pu Songling[Photo provided to China Daily]
The project, which was launched around two years ago, financed the first such movie The Summer Is Gone, winner of a Taipei Golden Horse for best picture in 2016.
Ya Ning, president of iQiyi Motion Pictures, says the project will support another three newbie directors' movies: My Town, Blue Chrysophoron, and Daogao Yizhang (The Good Wins).
The company also announced it will invest in or seek cooperation with upcoming domestic movies backed by famous directors, such as Feng Xiaogang's Fang Hua and Benny Chan's Meow.