Searching for the formula for films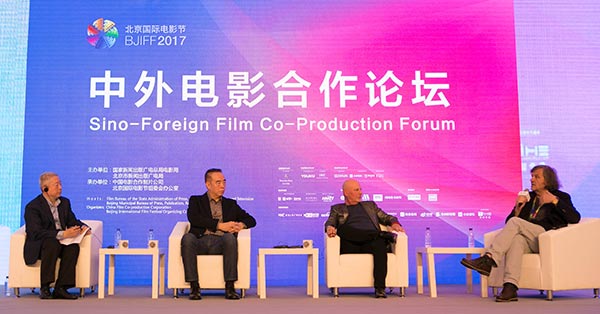 Filmmakers discuss trends at the Sino-Foreign Film Coproduction Forum during the ongoing 7th Beijing International Film Festival. [Photo by Jiang Dong/China Daily]
For Ged Doherty, the British producer of the thriller Eye in the Sky, which won acclaim in China earlier this year, the key elements of a successful coproduction are "the story, the partner and the cultural connection".
He says the cultural connection works to bring locals and foreigners together.
But filmmakers from Hollywood, who have been inserting Chinese elements into their big-budget films for a while now, say finding the connections is sometimes difficult.
Rob Cohen, an American producer and director, says: "We are still figuring out the language. I don't mean Chinese or English. I mean a movie language."
He points to the 2003 Sino-US coproduction Warriors of Heaven and Earth, starring Jiang Wen and Wang Xueqi.
But Chinese veterans are unfazed by the teething troubles.
Ye Ning, vice-president of Huayi Brothers Film Co, who has seen China's film industry make rapid strides since 2000, says the country's movie sector is still "a youngster" compared with its Western counterparts.
Ye, who has close connections with Hollywood thanks to his earlier experience of working in Wanda, says: "China's current movie-production capacity now meets only the demands of Chinese audiences."
He believes there is no shortcut to making a good movie. "No matter which country or area a filmmaker works in, the creation and production processes are similar. They are all painstaking," says Ye.
Related:
US help for Chinese film talent