Porcelain fans get royal treat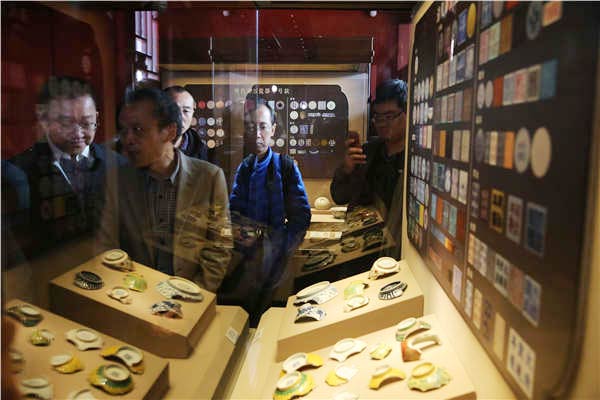 Visitors look at the ongoing exhibitions that showcase ceramics made in China's porcelain hub, Jingdezhen, for imperial courts during the Ming and Qing dynasties at the Palace Museum in Beijing. The imperial-kiln ceramics represent a zenith in the country's porcelain-making history. Photos by Jiang Dong/China Daily
Two exhibitions underway at Beijing's Palace Museum are showcasing a slice of imperial ceramic history. Wang Kaihao reports.
In 1369, a porcelain kiln was established in Jingdezhen, in Jiangxi province, to serve the imperial courts of the newly established Ming Dynasty (1368-1644), and thus began the city's story as a porcelain hub.
Last week at Beijing's Palace Museum, or the Forbidden City, the country's royal palace from 1420 until the end of Chinese monarchy in 1911, two exhibitions were opened showcasing a part of history of imperial kiln ceramics.
Whether in pieces or as complete items, the charm of these artifacts is unmistakable.
The Ming Imperial Porcelain: A Comparative Exhibition of Archaeological Findings at the Imperial Kiln Site in Jingdezhen and Chenghua Period Porcelain in the Collection of the Palace Museum, comprises 183 sets of porcelain from the reign of Chenghua (1465-87).
Seventy-six exhibits are from the Palace Museum collections, while the rest are pieces with defects found in kilns in Jingdezhen, according to Lyu Chenglong, head of the porcelain research institute at the Palace Museum.
"Only the best pieces were sent to Beijing. Those with defects were broken and buried at Jingdezhen. You can immediately tell the difference at this exhibition," says Lyu.
"The copying of such pieces by the public was strictly prohibited. So you do not see similar pieces elsewhere."