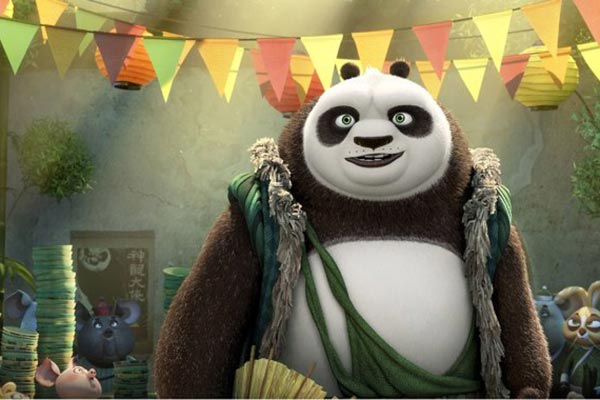 [Photo/DreamWorks Animation]
For the first time ever, North America fans of the Kung Fu Panda series may enjoy their hero speaking in its mother tongue as a Chinese dubbed and subtitled version of the movie is scheduled to be played in several North American theaters.
According to The Hollywood Reporter, China's Dalian Wanda Group is partnering with DreamWorks Animation and Fox to show the Chinese version, "Kung Fu Panda 3", in markets where there is a significant Chinese population.
As reported, three theaters in Los Angeles, and one in Boston, Chicago, Columbus, Ohio, the Bay Area in Northern California plus two theaters in Canada's Vancouver will screen the Chinese version.
The Chinese voice version of the movie, as introduced by Jeffrey Katzenberg, CEO of DreamWorks, was completely reanimated to make sure the characters' expressions match the Mandarin being spoken in the film, and the film contains an entirely different script with references to Chinese food and culture, The Wall Street Journal said.
In an interview with China Daily, Aynne Kokas, media professor at the University of Virginia, said that the Mandarin version "really shows an effect" from Oriental DreamWorks to localize content for the Chinese market, which audiences will take to.
The report says that besides the local flavor, the film will be the first major project from the Oriental DreamWorks joint venture, and movie industry analysts expect a box office bonanza in China.
The movie will hit screens just before the Lunar New Year (Feb 8) in China, which industry watchers said should help its box office performance. Both the English and Mandarin language versions will be shown.
The seven theaters in the US playing the Mandarin version are: AMC Loews Boston Common 19; AMC River East 21 in Chicago; AMC Lennox Town Center 24 in Columbus; AMC Cupertino Square 16 in the Bay Area; and Los Angeles' AMC Puente Hills 20, AMC Atlantic Times Square 14 and AMC Tustin 14.
Related:
Kung Fu Panda 3 sets box office record in nationwide preview

Po of 'Kung Fu Panda' returns to his Chinese roots