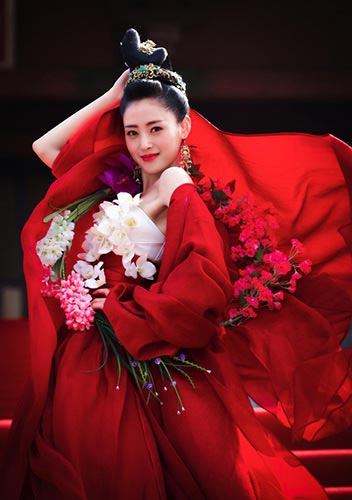 A still shot from Go Princess Go. [File photo]
The hit online drama Go Princess Go, which was removed from the Internet a week ago is now back, after editing that cut one third of the show.
"We cut about seven to eight minutes in each episode to ensure it could be played online. Some of the cut parts might be fun to watch, but we've no choice," said Gan Wei, the drama's executive producer.
Fans rushed to watch the new series as soon as it was available again. Many voiced their disappointment in Sina Weibo microblog posts, claiming the new version lost its hilarious essence.
"The adaptation cut the most exciting parts of the play, almost harming the plot," wrote Yoko in her Weibo post.
"Too bad all the kissing and bed scenes are gone," wrote Dongfangxiyue.
The drama, which received a record 2.6 billion views by the time it was taken off the air, was a much ridiculed funny fashion costume drama. The audience used to mock on the props and costumes so much that it was once the No.1 trending topic on Weibo for 10 consecutive days.
"The drama is indeed on a limited production budget. The Roman sandals, the veil dresses and all were all purchased on Taobao, and actresses were even encouraged to help do makeup for each other to cut down on costs," said Lv Haojiji, the director of Go Princess Go.
The 20 million yuan (US$3 million) drama turned out to be quite rewarding both for the director and LeTV - the online video company that produced the drama. As Gan said, the drama gained LeTV 2.2 million new memberships and 41 million yuan in profit, and total revenue has exceeded 100 million yuan.
"It doesn't just happen. The normal shooting period for a 35-episode drama would be done in about 60 days, but we spent 80 days – just to make sure that every scene is at its best," said Gan.
Zhang Tianai, the lead actress who stars as a crown princess who is actually a modern playboy who traveled through time and is transformed into a woman, said she did made an effort to play the role well. "I talked a lot to my male friends for tips, from coaxing to flirting," Zhang said.
At the press conference held by LeTV yesterday, Gan said that a Go Princess Go movie project is being planned.
"We want to make a barrage movie out of the show. The barrages, or the comments sent by viewers while watching, were collected. We're considering putting them into the movie; some may be adapted into lines," Gan said.
Related:
Hit online dramas withdrawn, shocking fans and industry