Fashion meets art at Milan men fashion week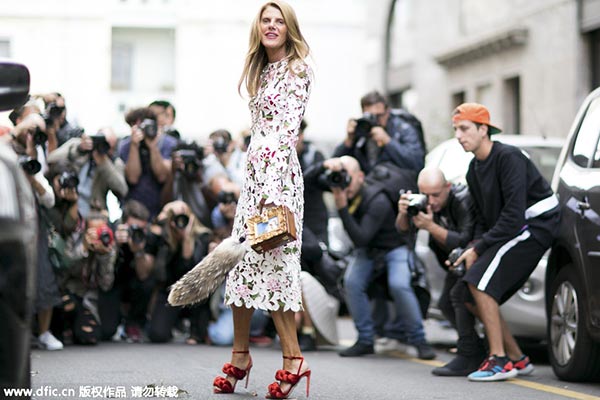 Milan Fashion Week street snap. [Photo/IC]
An audience of fashion lovers found themselves overwhelmed with art when they watched the show of Dolce&Gabbana men's fall-winter 2016-2017 collection at the Milan fashion week which closed here on Tuesday.
Models of different ethnic origins walked down the runway dressed in modern clothes enriched with embroidery and needlepoint decor reminiscent of the Wild West, such as cacti, roses and guns.
The soundtrack of the fashion show were the unmistakable scores of veteran Italian composer Ennio Morricone, who made his name with the "Spaghetti Western" movies, to which the 79-piece collection paid homage.
"I was deeply touched by the memories of these classics while listening to the music that Morricone composed for these movies," said spectator Sara Bellini.
"I am not a fashion industry expert, but my mother used to have a clothing store so that I developed a taste for beautiful clothing, and here I loved to see how a memory can be accessed contemporarily," she said.
The Milan-based fashion house, founded in 1985 by Italian designers Domenico Dolce and Stefano Gabbana, said that the collection was "a declaration of love for Italy and its culture."
"There was an interesting contrast between embroideries and embellishments and the shapes, cut and fit," noted Orazio Marano. Pajamas were paired with jackets and embroidered knits.
"I loved this mix of fashion and art which created a relaxed atmosphere, with the models all different from each other and a pervasive sense of creativity," another spectator Patrizia Torta, told Xinhua.
The "Spaghetti Western" movies directed by Sergio Leone in the 1960s brought the Italian movie industry to the attention of the world.
Earlier this month, Morricone, 87, won the Golden Globe for best original score for Quentino Tarantino's The Hateful Eight and last week was nominated for an Academy Award. Morricone, who has over 500 soundtrack credits to his name, received a career achievement Oscar in 2007.
Music and different forms of art also walked down the runways of other fashion houses in Milan. Emporio Armani's fall-winter collection opened to the strains of "Space Oddity" on Monday in a tribute to the late star David Bowie.
Andy Warhol's paint-spattered shoes were the inspiration behind the new collection of Salvatore Ferragamo presented on Sunday, which mixed classic aesthetic and artistry. Warhol used to wear brogue-style Ferragamo shoes in his studio, and in 2006 the Ferragamo family purchased a pair of his shoes at an auction.
The Milan men's fashion week running on Jan. 15-19 hosted 39 shows of the collections for the fall-winter 2016-2017 and 48 presentations, welcoming around 1,000 journalists and 800 buyers from all over the world.