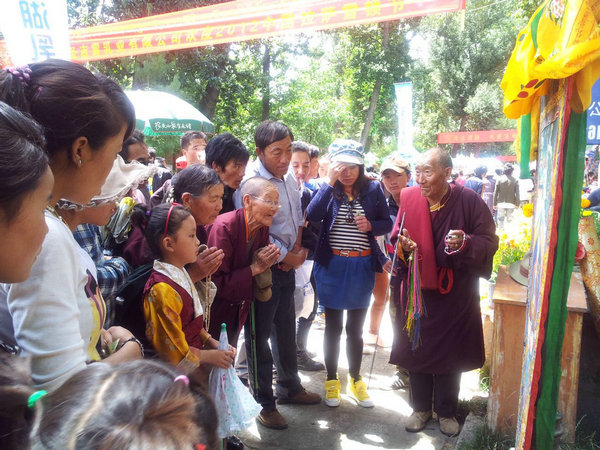 Trinley (right) performs at the Norbulingka Park in Lhasa during the Shoton Festival.[Photo provided to China Daily]
Trinley, 76, narrates Buddhist folktales depicted in the Thangka paintings using a wooden stick. Usually, it takes hours, but sometimes even days to finish a story. He is one of the few remaining performers of this ancient art.
In Barkhor Street, a bustling commercial center and popular tour site in Lhasa, capital of the Tibet autonomous region, where the symbolic Jokhang Temple is located, Trinley takes to the stage and attracts crowds with Lamamani, a traditional Tibetan performance which involves singing and storytelling.
Every day at around 9 am, the 76-year-old man arrives there and prepares to perform.
Wearing a long deep-red robe, yellow, a wide-brimmed hat and a pair of black leather boots, he first hangs a piece of Thangka painting on the wall and then announces the beginning of his performance by blowing a white conch-shell horn.
He tells Buddhist folktales depicted in the Thangka paintings using a wooden stick to point at the paintings. Usually, it takes hours and even days to finish one story.
Trinley is one of the few remaining performers of Lamamani, an ancient performing art.
Performed by Tibetan monks on streets, especially during holidays, Lamamani was included in the intangible cultural heritage list of Tibet in 2008 and Trinley was named the official inheritor of Lamamani, according to Ngawang Tenzin, deputy director of Tibet's intangible cultural heritage protection center.
To protect the dying tradition, the center started a project around four years ago, collecting images, documents, and video materials about Trinley's life, his experiences of learning Lamamani, performances and teaching of the art.
On Dec 14, the center announced the completion of the project.
The videos and transcripts will be digitized and stored in the database of the center.
At the same time, CDs recording Trinley's performances and a narration of the history of Lamamani have been published by the center.
Tenzin says that the center sent a team with Trinley to his home in a village of Lhozhag county, Shannan prefecture, located in southeast Tibet, early this year. This is where Trinley started learning and performing Lamamani.
They documented the journey and recorded his tour there.