China Daily Hong Kong earns high praise for 20 years of public service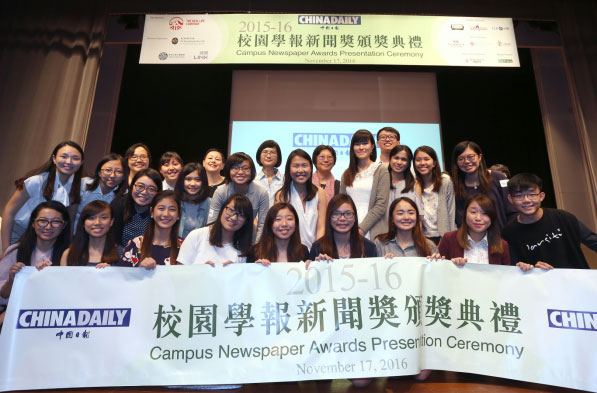 The Campus Newspaper Awards, an annual event launched by China Daily Hong Kong Edition in 2012 to encourage budding journalists, attracted student participants of 38 universities from Hong Kong, Macao, Taiwan and the Chinese mainland in 2016. [Photo/chinadaily.com.cn]
China Daily Hong Kong Edition launched the "China Daily Asia Leadership Roundtable" in 2010, a prestigious event that has been staged more than 50 times, attracting leading authorities in business, academic and political spheres to offer views on how to build a strong Hong Kong. Focused dialogue and calls for collective action on strategic issues have set a high standard for exchanges on issues relating to the economy, business and social development in Asia. The objective from the outset has been to enhance communication and increase mutual understanding between China, other Asian countries and countries around the globe.
Looking ahead, China Daily Hong Kong Edition Publisher and Editor-in-Chief Zhou Li said the newspaper is prepared to explore, as part of the community, the exciting new world of opportunities presented by Belt and Road and other initiatives. "China Daily Hong Kong Edition takes it as its mission to keep readers abreast of the latest development on the new economic front, helping them to understand the ways in which Hong Kong can break out anew from its highly matured economic bases, and see new opportunities beyond our borders."
In celebration of its 20th anniversary, China Daily Hong Kong Edition has organized a forum, to be held on October 9 on the theme "Guangdong-Hong Kong-Macao Greater Bay Area from the Belt & Road Perspective: Opportunities and Challenges". The forum aims to assess Hong Kong's advantages that may serve as springboards to a better future under "one country, two systems". An additional objective is to cement closer ties among Guangdong, Hong Kong and Macao, working cooperatively toward the development of the Greater Bay Area.
Chief Executive of the HKSAR Carrie Lam will deliver the keynote address. Following, there will be a discussion by a distinguished panel headed by moderator Edward Chen Kwan-yiu, chairman of HKU School of Professional and Continuing Education. Panelists include Pansy Ho, group executive chairman and managing director of Shun Tak Holdings Ltd; Regina Ip Lau Suk-yee, co-chair of the Maritime Silk Road Society; Li Xiaopeng, vice-chairman & group president of China Merchants Group Ltd; and Nicholas Yang Wei-hsiung, secretary for innovation and technology of the Hong Kong SAR Government. At the conclusion of the panel discussion, the floor will be opened for more than 350 high-profile guests including entrepreneurs, academics and diplomats to ask questions and share their ideas on this important subject.

Editor's picks