China Daily Hong Kong earns high praise for 20 years of public service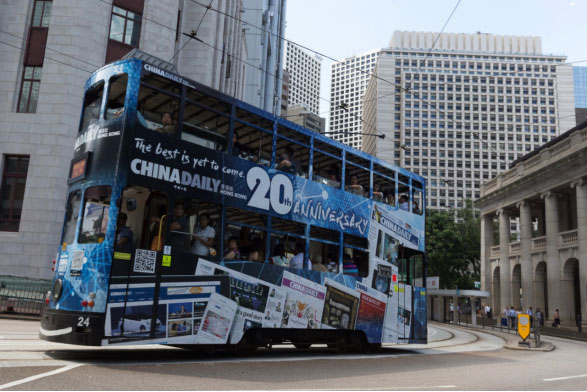 Ding Ding. China Daily Hong Kong rides aboard Hong Kong's iconic tram in celebration of the newspaper's 20th anniversary of service to the community, with a promise that "the best is yet to come". [Photo/chinadaily.com.cn]
During the last 20 years China Daily Hong Kong Edition has established its place as a vital source of information for political leaders, business professionals and members of the academic community, through its authoritative coverage and analyses of the latest developments and significant milestones. Its reader base now extends well beyond Hong Kong.
As Publisher and Editor-in-Chief of China Daily Media Group Zhou Shuchun wrote for China Daily Hong Kong's 20th anniversary edition, "Our Hong Kong publication was the first of China Daily's editions to be published from outside of the Chinese mainland and has garnered a substantial and loyal following of readers ever since, in Hong Kong as well as from across the Asia Pacific region and beyond. The paper has diligently brought news, analysis and in-depth research-based features about matters of importance to the local community as well as to a vast swathe of people from the world over who have a stake in Asia's financial capital. China Daily Hong Kong Edition has done a commendable job of bringing the world to Hong Kong and taking Hong Kong to the world these last 20 years."
Jonathan Choi Koon-shum, chairman of the Chinese General Chamber of Commerce in Hong Kong, also commended China Daily Hong Kong's role in bringing people together, saying that the paper has "served as an important media platform for connecting people between the Chinese mainland and Hong Kong, and helped facilitating business development of the region".
Ho Lok-sang, dean of Business at Chu Hai College of Higher Education in Hong Kong, pointed out that China Daily Hong Kong "informs readers about the latest developments in the world's second largest economy and one of the world's most ancient civilizations on many fronts: economic, political, cultural, and social". 
Consul-General of Thailand in Hong Kong Asi Mamanee said "during the past two decades, this publication has proven itself as a reliable source of detailed coverage and valuable insight into development in China and the world."

Editor's picks