Talent hunters give the best a fresh start
New first-tier cities present a world of opportunity as the battle for expertise intensifies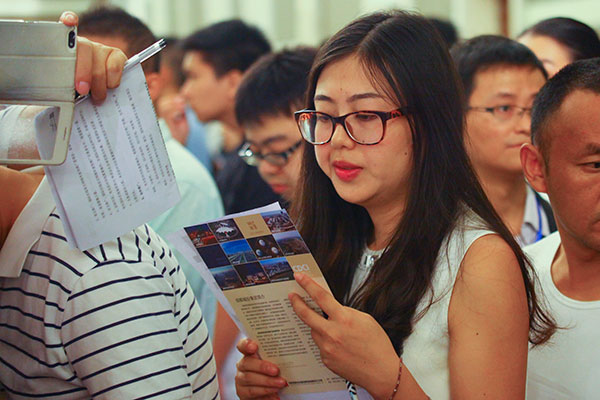 Job hunters attend a talent recruitment fair held in Chengdu, Sichuan province, on Sept 10. Provided to China Daily
The search for talent and expertise is not unusual but its frequency seems to have accelerated this year, and a competition has begun.
In February, the Hubei provincial capital Wuhan announced a plan to attract 1 million university graduates in the next five years. The news seems have triggered a domino effect.
The Shaanxi provincial capital Xi'an and Hunan provincial capital Changsha drafted similar five-year plans in May and June. While Xi'an plans to invest 3.8 billion yuan ($578 million) to attract 1 million candidates with suitable expertise, Changsha will invest 10 billion yuan to do the same. At least another eight provincial capitals have so far announced preferential policies to attract talent and expertise. Smaller cities are doing the same.
Experts said an unprecedented battle for talent has started in the country and will continue to become fiercer as innovation and technology-driven industrial upgrading continues across the country.
Statistics have shown a trend of talent flowing to other cities from crowded and resource-strained first-tier cities of Beijing, Shanghai, Guangzhou and Shenzhen.
Experts believe competition for talent will speed up the flow and that first-tier cities will face the task of introducing additional talent with international perspectives as the country goes ahead with economic globalization.
Many cities have lowered or even lifted the threshold for talent with bachelor or higher degrees to get hukou, or household registration. Many also offer cheap apartments, subsidies for buying homes, or even cash rewards.
Currently in China, without hukou, people may be excluded from the benefits of social welfare locals enjoy. In some cities, for example, children without hukou are restricted from schools.
The Wuhan government is building apartments especially to accommodate 200,000 people with expertise introduced to the city over the following five years. Those graduates who have left college in the last three years can apply for the apartments if they don't own a home in the city.