Fireball meteor observed in SW China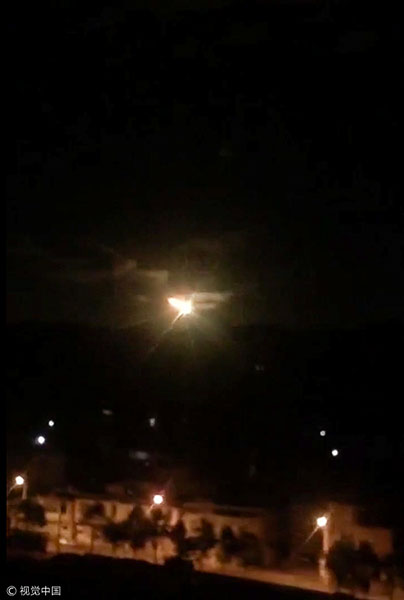 A brilliant fireball meteor was observed in southwest China's Yunnan Province on Wednesday evening. [Photo/VCG]
KUNMING - A brilliant fireball meteor was observed in southwest China's Yunnan Province on Wednesday evening, with no casualties or property losses reported yet.
"The fireball was caused by a very small heavenly body, compared with an asteroid," said researcher Wang Xiaobin with Yunnan Observatory of the Chinese Academy of Sciences, adding that such incident is not unusual.
The incident that happened at around 8 p.m. amazed many residents in Tibetan Autonomous Prefecture of Deqen who were viewing the full moon on the Mid-Autumn Festival. Videos capturing the seconds-long phenomenon have gone viral on the Internet.
"We first heard a big bang, and then saw a light. We thought it was an earthquake, but did not feel the jolt," said villager Duji.
Wang explained that a glorious fireball usually occurs when an meteoroid burns after entering the atmosphere.