Camp bridges cultural divide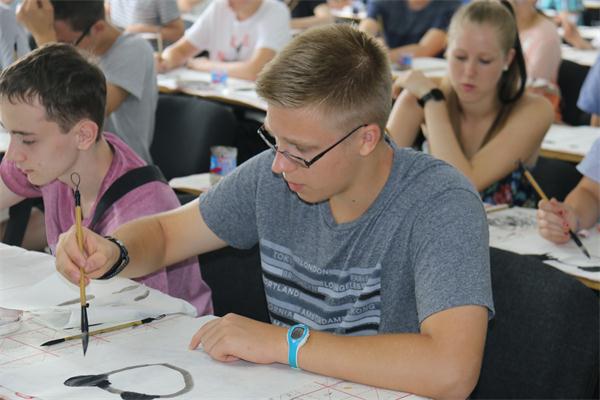 Hungarian boy Fekete Marcell Zoltan paints a panda in a Chinese painting lesson in BFSU on July 20. [Photo/Song Jingyi]
In a painting class on Monday, Adam Chimielecki drew a picture of a Chinese Panda.
Before coming to Beijing for summer camp, 18-year-old Adam has studied Chinese for two years, and said he had never tried to craft a Chinese painting.
Li He, an art teacher at the summer camp, said he designed lessons in accordance with an easy-to-difficult schedule.
"It's not easy to international students to grasp the essentials of wash painting in the limited period of time, from careful control of ink tone, unrestrained brushwork, and no unessential brush strokes," he said.
However, Li add students learnt the techniques well and their panda works are always beyond his expectations.
"By practicing more, the students learn faster," he said.
Adam said he has been crazy at reading Chinese masterpiece Art of War since he was a little boy.
He added he was also fascinated with Chinese traditional medicine under the influence of his father and fond of Chinese point of view of the world.
"Chinese people like to play tai chi or martial arts. They are pleasant, positive and polite," he said.
The summer camp is also an incredible experience to make more friends similar in age.
During the cultural corner activity, students from different countries share the most characteristic clothes, food and games with their global peers.
"They gather, talk with each other and listen to music," Margot Bremner, a teacher accompanying students from London for the third time, said.
"They get the freedom to meet more new friends without nationalities."
Just four days after this summer camp begins, another summer camp targeted on Confucius institutes from central and eastern European countries will have an opening ceremony at the BFSU campus.
"BFSU is one of the few major universities in the country that have the resources to teach less commonly taught languages, so it can help set up Confucius Institute in countries such as Hungary, Poland, Bulagria, Italy and so on," Zhu Qi, who works at BFSU Confucius Institute and in charge of the summer camp programs, said.