Camp bridges cultural divide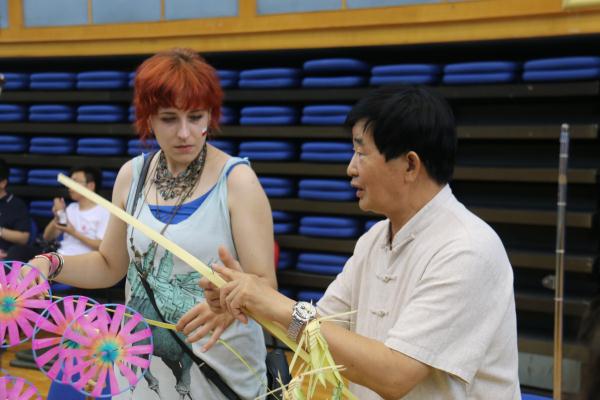 Polish teacher Ogarek Marta Barbara learns traditional Chinese folk arts with a Chinese master in the cultural corner activity held by BFSU on July 20. [Photo/Song Jingyi]
As a part of the trip, Fekete will stay with a Chinese family in Beijing on this Saturday.
"Compared with studying Chinese in foreign countries, international students can learn a great deal when they spend time with Chinese people immersing in surrounding Chinese culture,"Ogarek Marta Barbara, a teacher accompanying the Polish students on the program, said.
Ogarek now works for the Confucius Institute in Krakow, the second largest city in Poland.
"The institute organizes Polish students to visit China every summer," she said in fluent Chinese.
A total of 17 Polish students participate in the program, with most visiting China for the first time.
"Something happened which makes students excited and surprised during the trip, they ask me a heap of questions every day," Ogarek noted.
"They didn't know much about China except Chinese food and kungfu. Through the well-scheduled trip, they will obtain a more vivid view of life in China than the internet gives them,"she said.
The summer camp program includes visiting places of interest, art appreciation and viewing folk customs, as well as attending the cultural corner and specially-prepared group activities without borders.
About 120 students from seven countries, who are either registered students at Confucius Institutes or students of primary and secondary school courses of Confucius Institutes attend the BFSU summer camp this year.