Six Chinese nurses awarded with Florence Nightingale Medal
Six nurses from China received the Florence Nightingale Medal awarded by the International Committee of the Red Cross on Friday. A total of 39 nurses from 22 countries won the award this year.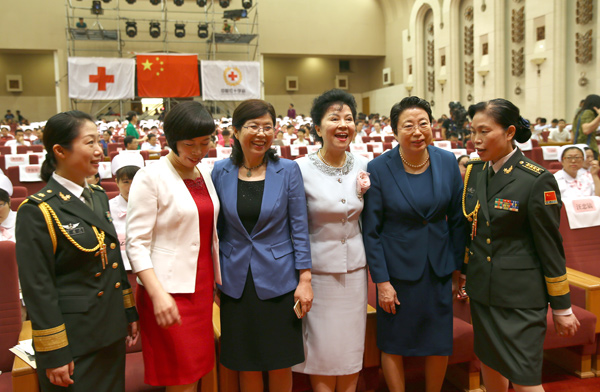 (From left to right) You Jianping, Yin Yanling, Yang Huiyun, Yang Hui, Li Xiuhua and Yang Li pose for group photos after being awarded with Florence Nightingale Medal. [Photo by Zou Hong/chinadaily.com.cn] 
The Chinese winners are Li Xiuhua from Beijing, Yang Hui from Shanxi, Yang Huiyun from Shaanxi, Yin Yanling from Jilin, Yang Li from the PLA General Hospital and You Jianping from the First Affiliated Hospital of Third Military Medical University.
The six have made contributions in different fields during their nursing careers including nursing education, infectious diseases and legislative progress for nurses' right.
Vice-President Li Yuanchao presented the medals to the six nurses.
President of the Red Cross Society of China Chen Zhu spoke at the ceremony, calling on healthcare workers and Red Cross staff to follow the example of the winners and continue promoting progress in healthcare.