Instrument makers dance to a traditional tune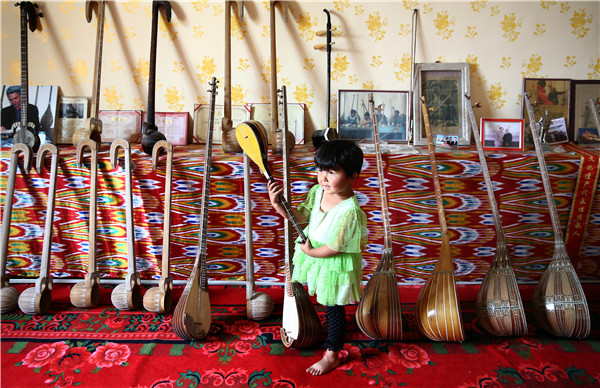 Asman Abula, Rehman's granddaughter, holds a model dutar.[Photo by ZOU HONG/CHINA DAILY]
Craftsmen in villages across West China are eager to maintain age-old skills and keep their culture alive, as Cui Jia and Mao Weihua report from Shufu county, Xinjiang Uygur autonomous region.
CUI JIA/MAO WEIHUA
Rehman Abdula is a quiet man, so when he speaks people know his words are important.
"It sounds good," he said, after listening to Memet Ali play a satar, a traditional Uygur instrument that resembles an Indian sitar. When Memet visited, Rehman was in the process of making the instrument at his house in Tuowankewukusake village, Shufu county, Xinjiang Uygur autonomous region.
Memet, 30, is a Uygur musician who plays in a local band that specializes in muqam, a popular and famous genre in the music of the mainly Muslim ethnic group. A few weeks before his visit, he had commissioned Rehman to make him a new satar.
The 65-year-old craftsman had asked Memet to visit to see if he was happy with the half-finished satar before he started to paint and decorate the instrument. It usually takes about a month to make a satar from start to finish.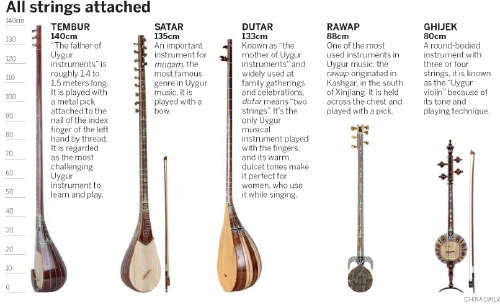 'Best of the best'
"He is the best of the best," Memet said, gently tapping the body of the 5,000 yuan ($740) instrument with a finger to check the sound. The hollow body was carved from a mulberry log by Rehman, using a small, homemade machete.
Like the other makers of traditional Uygur instruments in his village in southern Xinjiang's Kashgar prefecture, Rehman makes every piece by hand. He has no need for plans or drawings because all the measurements are in his head.
People in Tuowankewukusake are renowned across Xinjiang for their skill at making traditional Uygur musical instruments, an art they have practiced for more than 150 years. At present, 290 of the 570 families in the village support themselves by making and selling more than 50 different types of instruments.
The signature melodies of Uygur music, played on instruments such as the rawap, dutar, tembur and ghijek, can often be heard floating from behind the doors of village houses as craftsmen and their clients test the products.
Unsurprisingly, Tuowankewukusake is known far and wide as "the village of music".
Of the nearly 600 craftsmen in Tuowankewukusake, Rehman is hailed as the best because the instruments he makes always produce the purest, most beautiful tones.
"We can tell immediately if an instrument has been made by him. It feels as if the melodies penetrate deeper into your brain," Memet said.
As he hollowed out a piece of mulberry wood that would be transformed into a dutar, a type of long-necked, two-stringed lute, Rehman said: "I don't think my instruments are all that magical. I just want to make sure their sound doesn't pierce people's ears."
As the seventh generation of a family of instrument makers, Rehman was age 7 when he started following his grandfather around to find the best wood for their craft.
"My grandfather told me that a craftsman can only make a good instrument if he puts his heart into making it, instead of thinking about how much money it will fetch," he added.
"You have to inject life into the wood little by little," he said, repeatedly turning the log from left to right to search for the correct spot to land his machete.
After mastering the skills he was taught by his grandfather and father, Rehman first made a rawap on his own when he was 25. He sold the long-necked traditional instrument for 250 yuan.
Last year, he made what he believes to be one of the best rawap of his career so far. The instrument, decorated with tiny pieces of black yak horn and white cow bone, has a market value of about 8,000 yuan.
The instrument's stunning appearance prompted a man to visit Rehman's house and ask to buy the instrument, even though he couldn't play it. Rehman refused to sell.