Gansu girls still calling the shots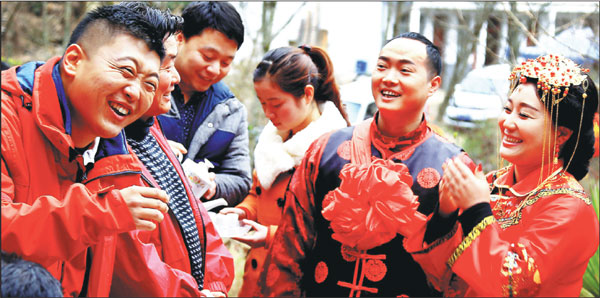 Friends and family gather for a post-wedding banquet in Kangxian county, Gansu province. [Photo provided to China Daily]
In an isolated pocket of Northwest China, women have traditionally been dominant, with husbands assuming their wife's surname and living with their parents-in-law, as Wang Xiaodong reports from Kangxian county, Gansu province.
In most regions of China, women leave home to get married and then follow their husbands. However, in many parts of Kangxian county in the northwestern province of Gansu, the reverse is true: traditionally, the groom moves in with his parents-in-law and his children take his wife's family name.
"Although this tradition mostly prevails in the southern parts of Kangxian, it also exists in a few other places nearby, such as Lueyang in neighboring Shaanxi province," said Li Wenkang, chairman of the Kangxian Federation of Literary and Art Circles.
Unlike most regions of China, where men traditionally play the main role in the family, women are usually dominant in Kangxian, and they, rather than their husbands, are registered as the head of the family on household registration forms, according to Li, who researches local customs.
Status update
"The tradition has some advantages, such as helping to improve the social status of women. With the development of society and the growing integration of these places with other parts of China, some members of the younger generation are abandoning the tradition, but it is still well preserved in these areas. Last year, I attended two weddings, and at the banquets I heard family members, both male and female, discussing the grooms' new names so they will follow their wife's families."
In 1993, Liang Yan, 47, from Ningqiang county, Shaanxi, married Xu Guilan in Yangba, a township in Kangxian.
Liang, who has three brothers, said his family was poor, so he came to Yangba to work as a brick carrier on construction sites.
"My parents didn't object when I told them I was getting married in Yangba and would live with my wife," he said. "They were actually pleased because they knew I would have a better life there. On my wedding day, I took a bus from Ningqiang to Yangba, accompanied by dozens of my relatives, including my father and my brothers."
After he married, Liang moved in with Xu and her parents. They both looked after the older couple, while Liang also grew tea and repaired houses.
Following a brain hemorrhage in 2009, his mother-in-law could barely move or take care of herself. She died in 2012, but during the last three years of her life, Liang spent a lot of time taking care of her and helping her to move around the township.
Almost every year, he returns to his home village to see his parents, who are in their 80s and live with one of his brothers. However, he always spends Chinese New Year, traditionally the most important festival for family gatherings, at his home in Yangba.