Beijing court awards injured subway passenger compensation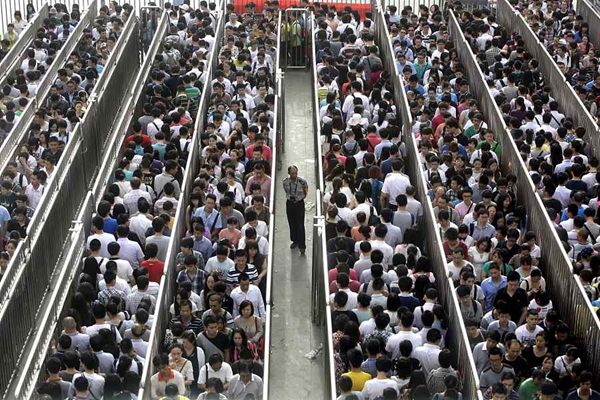 A security officer stands guard as passengers line up and wait for a security check during morning rush hour at Tiantongyuan North Station in Beijing May 27, 2014.[Photo/VCG]
A Beijing resident who was hospitalized for almost two years and sustained life-changing injuries following a crush on the subway has been awarded more than 260,000 yuan ($37,700) in compensation.
Beijing Changping District People's Court confirmed on Wednesday that it had asked Beijing Mass Transit Railway Operation Corporation Limited, the company that operates Line 5 of the metro, to pay the medical fees of a man surnamed Liu.
Liu was attempting to board a subway train on Line 5 at Tiantongyuan North Station at about 7 am on Jan 15, 2014, when he was crushed in a surge of passengers.
The 59-year-old lapsed into a coma, but the train was so busy that his predicament was not noticed until three stations later.
After being removed from the train at Lishuiqiao Station, he was hospitalized for more than 700 days and now requires round-the-clock care.
Liu's family had initially demanded more than 1.9 million yuan in compensation when the lawsuit was filed.
The court said it had accepted the case in February 2015 and made its decision on March 30.
In the judgment, it said that the litigant's injuries were not directly caused by the metro operator, "but the case highlighted a lack of protection and security measures for passengers, especially during rush hours."
As the company did not provide enough evidence to prove it had taken reasonable steps to prevent Liu from being injured, the court decided to order that it pay his medical fees.