When tech meets tradition: Remembering the deceased in a green way
Editor's note:
"Natural burial" is not new in China, but technology makes it easier by easing the contradiction between contemporary ecological requirements and traditional method of commemoration. Here we take a look at how technology is changing burial services in Beijing.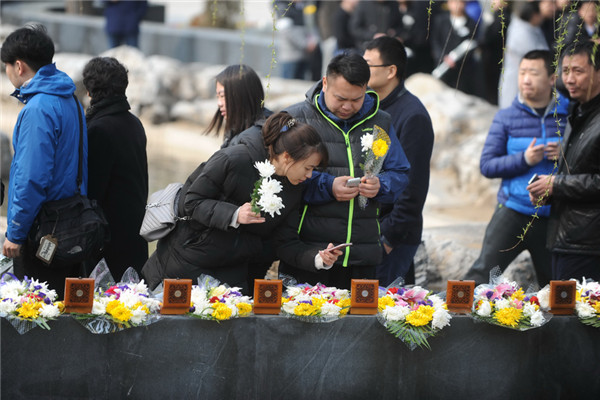 A woman scans the QR code on a commemorative plaque during the first natural burial ceremony at Changqing Cemetery in Beijing, March 25, 2017. [Photo/VCG]
QR code opens door for commemoration
The first natural burial ceremony in the city was held on Saturday in Chaoyang district's Changqing Cemetery. Ashes of 31 deceased were interred in the lawn in a container, which will dissolve in about six months and become part of the soil.
Families who choose this way for burial can obtain a commemorative plaque engraved with the person's name and a QR code. And the service is free.
After scanning the code, one can view online the person's photos, videos, biography, family tree and leave condolences on the message board.
The cemetery can house ashes of 15,000 deceased which means each body only takes up one-square-meter space.