Drilling expedition to answer questions deep in South China Sea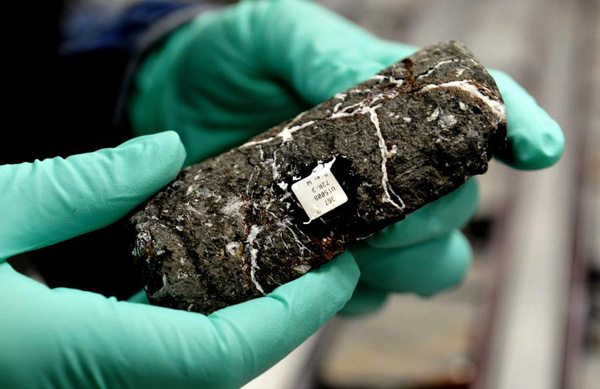 Photo shows a piece of rock sample from the seabed of South China Sea on April 2, 2017. [Photo/Xinhua]
Researchers have drilled a 1,500-meter hole into the seabed of the northern part of the South China Sea in an expedition led by Chinese scientists, and the hole is ranked seventh deepest worldwide.
The hole, identified as U1500B, is located at the seabed 3,800 meters under sea level. After drilling 1,400 meters of unconsolidated sediment into the seabed, the drill finally reached rock.
In order to protect the hole from collapse during the drill, researchers installed 842 meters of single layer protective casing, setting a world record in drilling holes.
As of March 25, researchers have drilled the hole 1,380 meters deep to reach basalt and then gathered more than 100-meters worth of rock samples from the hole.
Huang Xiaolong, a researcher from the Chinese Academy of Sciences Guangzhou Institute of Geochemistry, said that the rock samples show obvious pillow structure, a typical structure that is formed by lava flowing underwater.
He said that the samples might be mid-ocean ridge basalts, and if this is proved, with the information of rock samples from the 2014 expedition, it will help researchers understand the history of the South China Sea basin expansion.