How Spring Festival is being redefined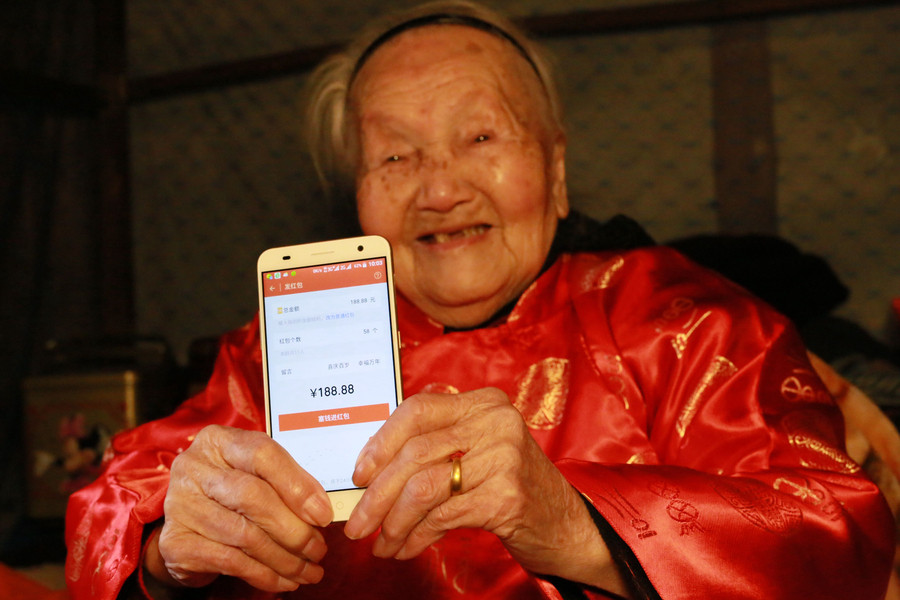 A 100-year-old woman sends out a WeChat red packet, Yuyao, Zhejiang province, Jan 31, 2017. [Photo/VCG]
Digital red packets delight old and young
Hongbao - red envelops containing lucky money - are traditionally given to children by older relatives. But digital red packets sent through apps has become a way of life, entertaining both grown-ups and children.
After three years of growth, the popularity of instant messenger WeChat's red packets again soared this year. Six billion red packets were sent and received during the six days from lunar New Year's Eve to the fifth day of the first lunar month (Jan 27 to Feb 1), up 43.3 percent year-on-year.
Although the younger generation, those born in the 1980s and 1990s, are the main players, more and more older people are joining in the digital game of sending best wishes.
If anyone's wondering how invasive smart technology can be, China's story of digital red packets is the perfect example.
Related story: WeChat's hongbao usage soars during the Spring Festival