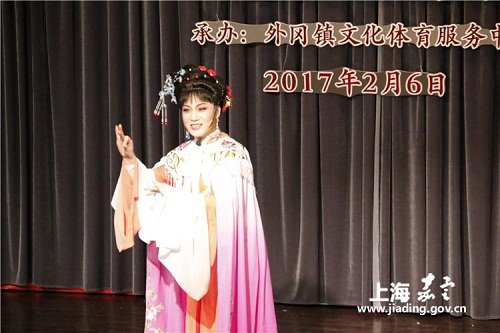 An artist performs a folk opera in Waigang town in Shanghai's Jiading district on Feb 6. [Photo/jiading.gov.cn]
A Spring Festival celebration tour launched by the media department of Shanghai's Jiading district came to Waigang, a town in Jiading, on Feb 6, providing local residents with a cultural feast.
Spring Festival, also known as Chinese Lunar New Year, is the most important holiday in the Chinese calendar. During the festival, various celebrations are staged and often run from the eve of the Lunar New Year to the Lantern Festival on the 15th day of the first lunar month. This year, the Lunar New Year fell on Jan 28.
The celebration tour put on a variety of art performances, including singing, dancing, acrobatics, cross-talk comedy sketches, magic shows, folk operas and an impressions show, among others.
Waigang town has invested more in creating a vibrant cultural scene for local residents in recent years, seeking to bring in more public cultural service programs and encouraging locals to participate in cultural activities. This Spring Festival celebration tour is just one product of the town's efforts.