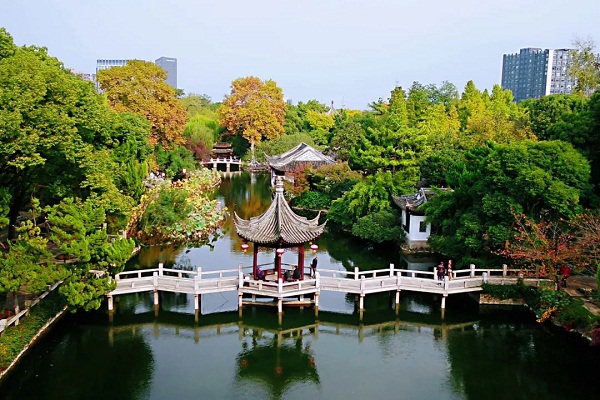 A bird's-eye view of Guyi Garden, which is among the first batch of Shanghai's digital scenic spots. [Photo/WeChat account: sh-jiading]
Guyi Garden in Shanghai's Jiading district was recently rated as one of the 21 Shanghai digital scenic spots by the Shanghai Municipal Administration of Culture and Tourism, local media outlets reported on Jan 19.
Guyi Garden boasts a complete digital management system to ensure tourists' safety during their visits to the garden.
In terms of the garden's environment, Guyi Garden adopts cutting-edge technology of the internet of things to maintain the cleanliness of the garden. In addition, the light control system is available to turn on different colored lights to create various festive effects in the garden.
In addition to promoting itself on different channels such as Douyin, the Chinese version TikTok, and Bilibili, Guyi Garden has refined its classical cultural elements, developed an IP image of Xiaolongbao, offers traditional steamed buns, and is developing more cultural and creative products to showcase in the garden.
The digital scenic spot integrates modern information technologies such as the internet of things, big data, cloud computing, and artificial intelligence to build a system for management, services, and marketing. It aims to improve visitors' satisfaction at the scenic spot as well as be recognized as a sustainable scenic area.