WeChat's hongbao usage soars during the Spring Festival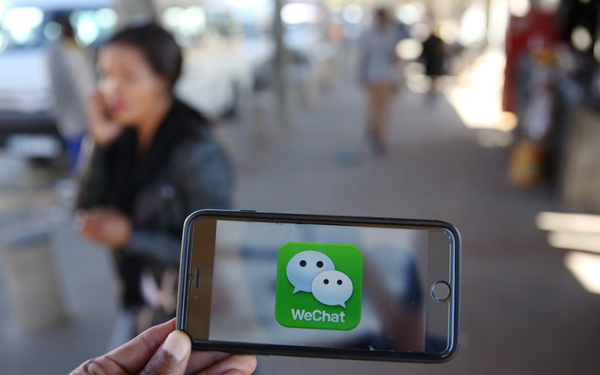 A WeChat logo is displayed on a mobile phone as a woman walks past as she talks on her mobile phone at a taxi rank in this picture illustration taken July 21, 2016. [Photo/Agencies]
After the past three years of growth, instant messenger WeChat's red packets-or hongbao in Chinese-have become one of the most prevalent and popular aspects of the Spring Festival.
According to statistics provided by Tencent Holdings Ltd, the provider of the WeChat services, on Thursday, 46 billion red packets were sent and received during the six days from lunar New Year's Eve to the fifth day of the first lunar month (Jan 27 to Feb 1), up 43.3 percent year-on-year.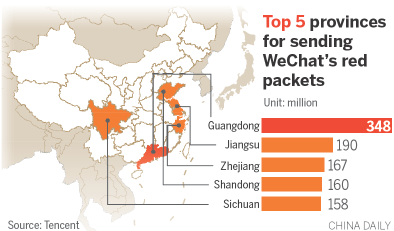 The Lunar New Year's Eve was the peak for the red packets, when a total of 14.2 billion red packets were sent and received on that day, up 75.7 percent year-on-year. A man in Shenzhen sent a record high 2,125 red packets on the day, while another man in Binzhou in eastern China's Shandong province got the most red packets, receiving 10,069 red envelopes.
People in Guangdong were the most generous, sending and receiving 5.84 billion red packets during the surveyed six days. Jiangsu ranked the second on the list, with 2.93 billion red packets, followed by Shandong, Hebei and Zhejiang.
WeChat found that the younger generations, those born in the 1980s and the 1990s, make up the majority of hongbao senders.
Tencent did not launch any advance marketing campaign for this year's red packets activity.
WeChat President Zhang Xiaolong said it should not directly be involved in too many festive occasions because it is essentially a tool.
Zhang also said that the mission of promoting WeChat Spring Festival red packets had already been completed in the past few years, including working with the Spring Festival gala show of the China Central Television.
Apart from the red packets, WeChat stickers especially designed for the Spring Festival and video calls, have also become the two major ways to express people's wishes to their friends and relatives. During the six surveyed days, a total of 16 billion WeChat stickers were sent with blessings.