Ensuring a happy new year for China's poorest people
Groups of volunteers are using their leisure time to book train tickets online and help migrant workers return home for the nation's most important holiday. Hou Liqiang reports.
Instead of preparing for end-of-year exams, Zhao Hongli, a freshman at Inner Mongolia Agricultural University in Hohot, the capital of the Inner Mongolia autonomous region, spent his time on something less interesting, but equally tough - buying train tickets for about 100 migrant workers so they could get home for Spring Festival, the most important holiday for family reunions.
Although many tech-savvy people are familiar with the process of buying tickets via the internet or mobile apps, it can be a baffling experience for migrant workers, many of whom have only received a basic education.
About 3 billion trips are expected during the Spring Festival travel rush, which runs from Jan 13 to Feb 21. The great demand for tickets means they can sell out within minutes of sales opening, and instead the booking system, which is intended to save people from lining up at station ticket offices, leaves many people frustrated.


The workers' plight prompted Zhao to help, so he started working as a volunteer for an NGO called Yijiaqin, or "Close like a Family", in the Baodi district of Tianjin, the northern port city that is his hometown. The NGO assigned tasks to the volunteers and provided the money to pay for the tickets.
Regulations
In China, rail tickets are sold 30 days prior to a train's departure date. Passengers are required to use their ID card to register with a website called 12306 before they can purchase tickets online, but Zhao's efforts were hampered by regulations. "I could only add 15 people to my account, but under the rules I wasn't allowed to delete them to add new names for 180 days," the 19-year-old said.
To provide more help, he recruited three friends to assist him by using their accounts or those of other friends. Because departure times differ, the times tickets go on sale also vary. If tickets are sold out, potential passengers scan the app to see if anyone has changed their travel plans, returned their tickets and claimed a refund. However, because he didn't have access to a computer, Zhao had to check his phone frequently and ensure he had all the relevant information to hand when the electronic ticket window opened.
"When busy, although fully charged, my phone's battery was quickly exhausted," he said, adding that he used the app so frequently that he often opened it without thinking, even when he didn't have to buy tickets.
Most of the tickets he bought were for cheap, low-speed trains. The process was time-consuming and arduous, but Zhao didn't mind: "I was happy to help. I am not obsessed with scholarship and good exam performances."
In addition to the volunteers' activities, businesses are also playing their part in the annual exodus by helping migrant workers to return home via other forms of transportation. For example, the China Social Assistance Foundation joined with Ping An Insurance Group to offer 10,000 free bus tickets to migrant workers, while another NGO, called Facilitator, has partnered with Didi Chuxing, a ride-hailing company, to offer 500 yuan to use the company's ride-sharing services.
Numbers decline
Zhao is just one of 230 Yijiaqin volunteers. So far this year, they have bought more than 5,700 tickets for the upcoming Spring Festival holiday, 3,300 fewer than last year. Several of the volunteers paid for the tickets themselves before being reimbursed by the migrant workers, according to Yuan Hongfei, Yijiaqin's director.
This year, though, the number of tickets they have bought has fallen, because some of the migrant workers have learned how to buy tickets online, while the presale period was shortened to 30 days from 60 at the end of last year.
Yan Chengmei, who mainly helps domestic workers for the Female Migrant Workers' Home, an NGO in Beijing, has bought fewer tickets this year.
"Before the Spring Festivals in 2013 and 2014, my work and life were plunged into chaos when I helped domestic workers to obtain tickets. Sales opened at different times for different trains, but I couldn't ensure I would be seated in front of my computer at the best time to grab tickets," she said.
"I was often absent from my office and had to ask my colleagues to use their phones to book tickets. When a colleague agreed to pay, a verification code would be sent to my phone, but it had to be sent to the colleague and used within a minute of receiving it. Any longer, and the code became invalid. Sadly, I often failed to make it on time and had to ask my colleague to go through the process again. Sometimes, I failed to buy tickets for through trains and had to check if the domestic workers could get home via a transfer with two tickets. However, the two tickets often went on sale at different times," she said.
After helping 40 to 50 domestic workers to buy tickets in 2013 and 2014, she has successfully taught a number of her "clients" to order the tickets online themselves. However, many still need help because they don't have internet access and don't know how to use the system.
Yuan, of Yijiaqin, said that when his team visited more than 20 construction sites in Baoding, they discovered that many migrant workers were using feature phones that didn't have internet access. Having failed to buy tickets, many chose to look for temporary work and return home after Spring Festival to avoid the rush.
Yuan Zhicheng, a construction worker in Tianjin, said that without assistance, he would have no idea how to get home to Xiangyang in the central province of Hubei. "I don't know how to buy tickets online, and I work from 8 am to 7 pm so I don't have time to check online repeatedly. The help I received has been a blessing," the 40-year-old said.
Contact the writer at houliqiang@chinadaily.com.cn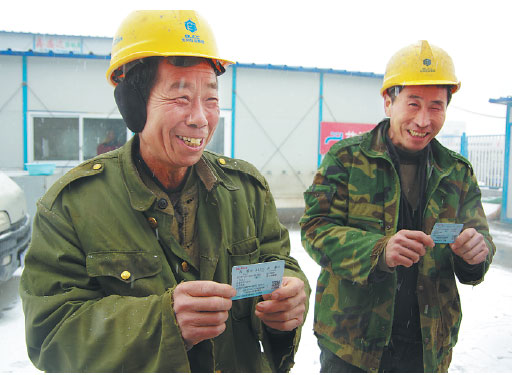 Construction workers in Tianjin hold train tickets for the Spring Festival, which falls on January 28. Migrant workers account for the majority of travelers during the holiday exodus.Photos Provided To Chinadaily